John Bingham Housley (1847-1936) spent much of his life in domestic service. For many years he worked as butler to the family of Louis Schwabe at Hart Hill.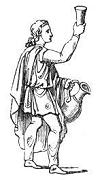 The butler's role In a large Victorian household such as the Schwabe's, household management and operations would be divided between the butler and the housekeeper, under the oversight of the master or mistress of the house. The butler was generally responsible for male domestic staff such as the footman, while the housekeeper managed the cook and female servants. The butler was traditionally in charge of the dining room and specifically of storage and service of alcohol. A butler's pantry was common. The word derives from the Latin 'buticularius', who was the servant who looked after the wine cellar and handed drinks around at meal times.
John Bingham Housley was born in 1847 in Eastwood, Nottingham, the only child of Samuel and Frances Housley. He lived as a small child with his parents and grandparents. His father and grandfather were both sawyers. By 1861, he and his mother had moved to Hulland in Derbyshire, where she was working as a charwoman.
Ten years later in 1871, at the age of 24, John had entered into his life in domestic service. He was living at 32 Greenheys Lane in the Manchester district of Chorlton on Medlock. As one of four servants to calico printer Samuel Potter, he began his training to rise to the top of the domestic service ladder. Samuel Potter died in 1875 and it may have been at this time that John felt he had established himself well enough to take his next step up.
In 1876 he married Annie Gannon and his first son, Samuel was born the following year, but died at just three years of age. Daughter Frances was born in Withington in 1878, followed quickly by son John the following year.
By 1881 he had secured a butler's post, but was not living full-time in his employer's household. John had his own home at 6, Egerton Terrace in Withington. His mother-in-law, a charwoman, lived with them. It is not known where John was working, but we can assume it was in one of the more substantial houses close by. Over the next ten years John and Annie had four more children, the last born in 1890. It was probably around 1890 that John moved to Salford and took up the post of butler to Louis Schwabe at Hart Hill.
The 1891 census confirms that John was then at Hart Hill. The Schwabes had a total of ten domestic servants, including a footman and groom, and seven women – housekeeper, cook, nurse, laundress, kitchen maid and two housemaids.

John was resident at Hart Hill on that night and on the two following census nights in 1901 and 1911. Where was his family? In 1891, Annie and the six children were still living at 23 Birch Street in Moss Side. Annie was listed as "living on her own means", indicating that John was earning enough to keep the family in their own home, without Annie having to go out to work. In 1901 the census lists the Housley family living at 26 Mode Wheel Road. This was around a mile south of Hart Hill, a 20 minute walk away. Annie Housley, by then 54 years of age, still had five children with her – Frances, a shirt machinist, John, a joiner and builder, 16 year old Gerty, also in domestic service, and two schoolboys, Henry and Harry. It appears that Emily had gone to the north east in the mid 1880s, probably into domestic service, though still a child. We found the death of 14 year old Emily Housley registered in Gateshead in 1906.
The 1911 census was the first to be completed by the head of household instead of an official enumerator. It was also the first census that required more detailed information about length of marriage and total number of children born. Louis Schwabe appears to have been confused as to how to answer this question. He completed the information for his own family, but was then unsure how to deal with John Housley, who was married with a family which lived elsewhere. Fortunately for researchers, Louis completed the schedule in respect of John, then crossed out this entry. This error confirmed that John and Annie had by then been married for 34 years and had had a total of seven children, two of whom had died.

Annie's own census return for 1911 shows her living at 500 Eccles New Road with daughters Frances, 32, still making shirts and Gertrude, 26, now a waitress. Son Henry, was a French Polisher, making billiard tables, which were in great demand for gentlemen's houses. Harold was a warehouseman in a Shipping warehouse.
It was uncommon for butlers to be married, and those with wives and children were expected to make their own arrangements for their family's accommodation. John was clearly used to this as he had been married for many years and the situation must have been agreed on his appointment at Hart Hill. He must also have had sleeping-in shifts as he was present there on three successive census nights. Presumably his salary reflected his living arrangements as board and keep were generally part of the domestic servant's pay and conditions. We do not know what John was paid. Mrs Beeton's Book of Household Management, 1912 edition, suggested £55 to £90 a year with room , board and uniform as extras.
John's oldest son, John, had emigrated to Western Australia sometime before 1914, when he married in Perth. He was a carpenter. Military records show that in early 1916 he joined the Australian Imperial Force and was sent to fight in France. He survived the war and in April 1919 was sent to England, where he was granted three months leave. This was probably the last time he saw his parents and siblings. Annie Housley died in 1924. She left no will and administration of her estate was granted to John Housley, 'retired butler'. Her effects were valued at £347.8s.11d.
It is likely that John retired on the death of Louis Schwabe in April 1922. When the 1921 census returns are released in 2021, we can expect to find him at 500 Eccles Old Road, where he died on 11 March 1936. His daughter Frances and son Harold, both unmarried, were still living there at the time of the 1939 Register. They are buried with their parents, John and Annie, at Peel Green Cemetery.
John's will left an estate of just £94.8s 3d. Not a lot to show for over 30 years of service to one of the wealthiest families in Salford. In his will, written in December 1924, John left his "furniture plate linen china glass books pictures musical instruments jewellery trinkets wearing apparel and all other articles of personal or domestic use or ornament to my said daughters Frances and Gertrude equally.." All other property was to be sold and the proceeds divided between sons Harold and Henry and his two daughters. There is no mention of son John, who died in Western Australia in 1951.