The Early History of Eccles Old Road
Eccles Old Road has been many years in the making. Yet there are few maps and fewer descriptions of the route before the establishment of Turnpike Trusts in the north west in the mid 18th century. What would the route west to Eccles from the Woolpack Inn have been like in the early 1800s?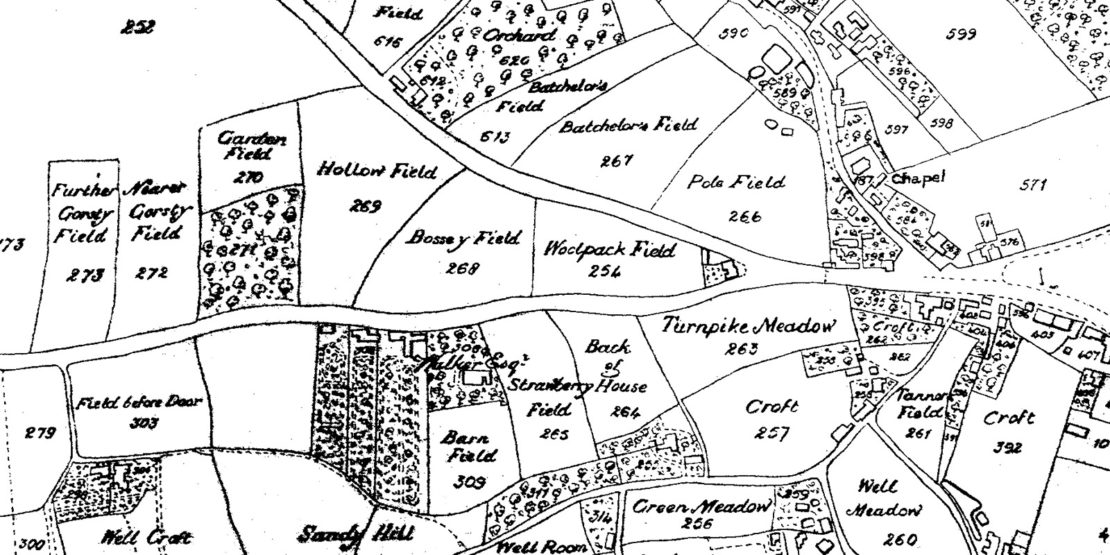 A traveller may have set off on horseback or on the mail coach. He would not have known this ancient route to Warrington and Chester as Eccles Old Road. Having passed from Broad Street through the toll gate at Pendleton, he would have immediately found himself on Sandy Lane, which at that time ran from the Woolpack Inn to where the current Sandy Lane branches south. He may have heard his route referred to as 'the Eccles road', since that was where it led, but it would not be generally known as Eccles Old Road until the second half of the 19th century, when censuses and post office directories required more precise ways of describing people's residences and when there became a need to distinguish between the ancient route and the 'new' road from Hulme to Eccles.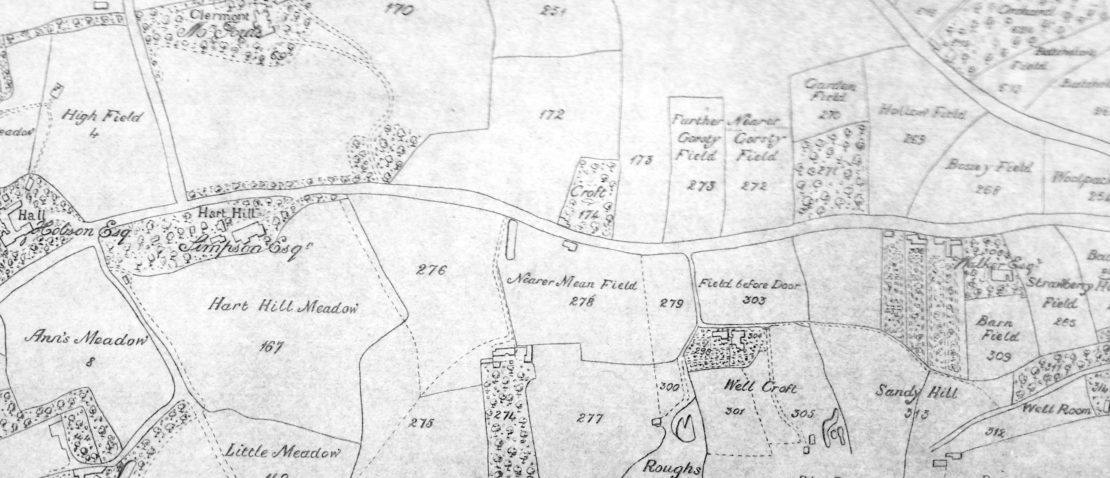 For the mile or so, after Sandy Lane, the road appears to have had no formal name, passing through the estates surrounding Mr Simpson's house at Hart Hill on the left and on the right Mr Ford's at Claremont, Mr Cheshire's at Acresfield and Mr Bayley's at Hope Hall. Beyond this point, Broomhouse Lane would take him all the way to Gilda Brook and the boundary with the township of Barton upon Irwell.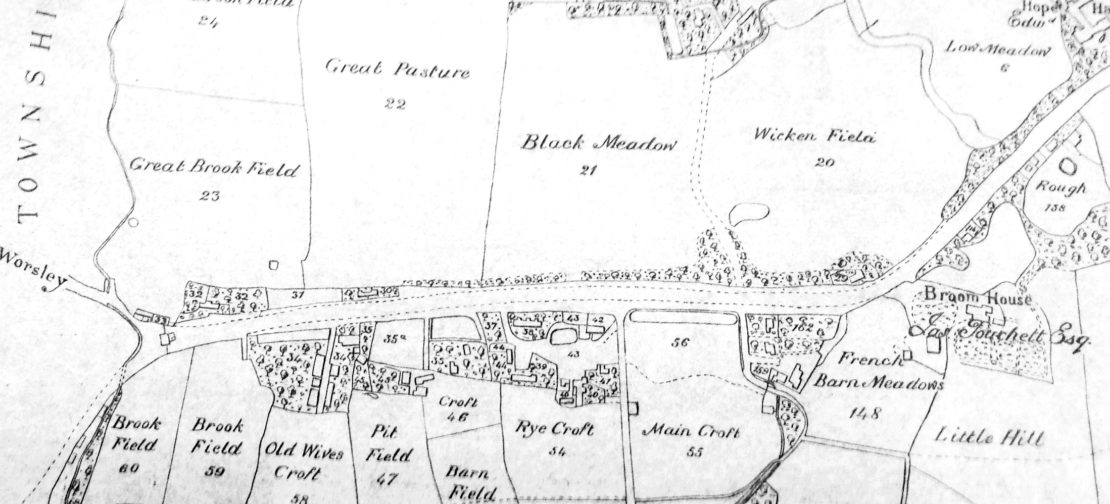 Throughout his two and a half mile journey our intrepid traveller would have passed farm houses, agricultural buildings, cultivated fields and livestock, meadows and pasture land. He would have seen ponds and waterways – to the west of Hope Hall is clearly shown a canal running between two fields, and a pond on the western edge of Wicken Field, which marks the current route of Lancaster Road. He would also have seen drying fields used by those engaged in the textile finishing business. He may have passed half a dozen substantial houses, surrounded by orchards and gardens, and maybe twenty more modest homes. If all the occupants had stepped outside to wave to him, he is unlikely to have been greeted by more than a hundred people on his two and a half mile journey.
The 1841 census reports, the first to enumerate individual households, referred to the north and south sides of Sandy Lane and to Broomhouse Lane, without identifying which side of the road the households lived. The 1851 census reports are badly water damaged, but it is clear that Broomhouse Lane and Sandy Lane are still commonly used names. They are also the road names used on the Ordnance Survey map of 1848. Eccles New Road is by now well-established.

The 1858 Postal Directory gives postal addresses on both Eccles New Road and Eccles Old Road. The 1861 census Enumeration Districts are delineated by Eccles Road from the Woolpack to Gilda Brook, with Eccles New Road to the south. By 1871, Eccles Old Road is firmly established as the official name of the whole road from Pendleton to Gilda Brook.

Within the next hundred years, many of the fields and meadows our traveller would have enjoyed had been built upon. The larger new properties were home to some of Salford's most influential business and political elite. Others housed the growing middle class who provided legal, medical, technical, educational and other professional services. Most of these households were supported by an army of servants: domestic cooks, butlers, maids, manservants and governesses lived in the houses, while gardeners and coachmen occupied the lodges and estate cottages.

A motorist today will see Eccles Old Road as a two and a half mile stretch of the A576 from its junction with the A6, west of St Thomas's Church in Pendleton to where Half Edge Lane branches off to Monton and where Gilda Brook Road continues into Eccles. She may notice a bowling club, three churches, a large hospital, two children's nurseries, over a dozen shops, around five care homes and one pub. She will pass more than five hundred residential properties, most of which are apartments, which are home to over a thousand of Salford's residents, ten times the number who lived along the road two hundred years earlier.

Most of the early population expansion of the 1800s, of all classes and occupations, were not Salford born, but gravitated into the industrial north from all over rural Britain and Ireland as well as from Europe and beyond. The history and development of Eccles Old Road reflect the enormous changes to the landscape, economy and culture of Salford through its late medieval, industrial and post-industrial years.

---
Early history

We know that Sandy Lane has a very long history. St. Mary's register for 27th October 1616 tells us that,

'Ellin Thropp who was called Mr Atherton's foole dyed in the Sandy Lane the 26 October'


St. Mary's register for 27th October 1616
We don't know who Ellin was, though it is possible she was a member of a touring theatrical company (Mueller, S. Touring, women and the professional stage. Early Stage 11.1 2008).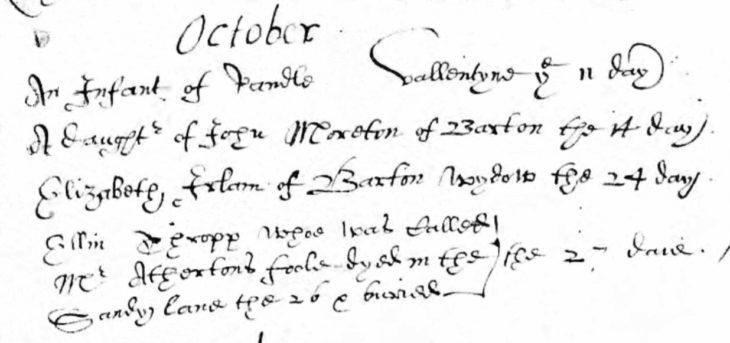 Two other families, the Bradshaws and the Cookes, who lived on Sandy Lane are also recorded in the parish registers in the first half of the 17th century. Mary Bradshaw, daughter of Richard Bradshaw 'de Sandy Lane' was baptised on 8 April 1627, and Abram, son of James Bradshaw 'de Sandy Lane' on 25 January 1628/29. James's wife Katherine was buried at St Mary's in December 1634, followed by James himself in January 1637. In 1635 John Cooke buried his infant daughter Mary, whilst in the same year Thomas Cook, both 'de Sandy Lane' had his daughter Alse baptised there. John baptised another daughter, Jane in 1637, but also buried daughter Anne in 1653/4.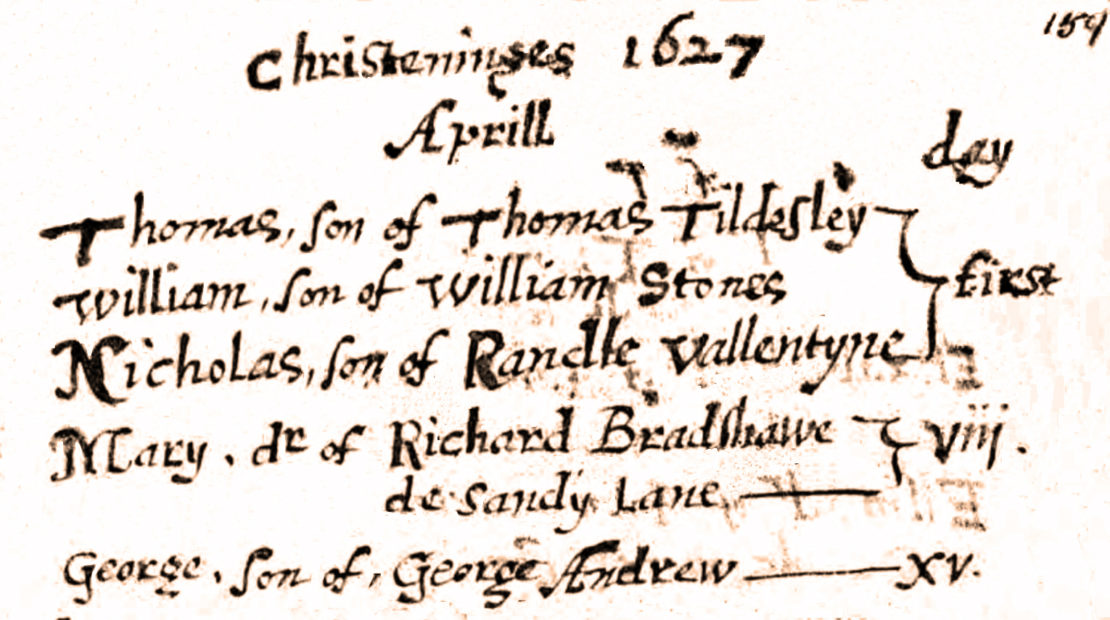 A little beyond Weaste Lane, which John Ogilby marked as the road to Trafford, started the Broomhouse Estate. Mr Touchet's mansion at Broom House stood on the left, before what is now Tootal Drive. There had probably been a house on this site for many years. The rest of the road, as far as Gilda Brook and possibly beyond, had been known as Broomhouse Lane from at least the start of the 1600s. There are numerous references to the lane and some of its residents in St Mary's registers. Alice, daughter of Thomas Lightboune, was baptised there in 1616 and another daughter Margaret in February 1629/30. Some surnames recur regularly in the registers in relation to Broomhouse Lane over many years. The Lightbounes, Pollets, Bradshaws, Strettels and Barlows must have been very well known in the area and in the Eccles church.
A few register entries tell us more than names and abodes. We can get a glimpse of the seasons the residents experienced. The winter of 1627 appears to have been a particularly harsh one. We are told that on 1 December, was buried 'Randle Starkie, gent, pished in Broomhouse Lane of a frostie night', and that on 20 December was buried John, son of Thomas Lightbowne of Broomhouse Lane who 'pished on Swinton More on a stormie night'.
---
John Ogilby's Britannia maps
John Ogilby (1600-1676) was a Scottish translator, impresario and choreographer. His most significant achievement, however, was as a cartographer. Ogilby published the first British road atlas.
The survey that formed the basis of his maps was undertaken at the command and expense of King Charles II, who appointed him 'His Majesty's Cosmographer and Geographic Printer'. In 1675, Britannia was published in a large volume in Folio, consisting of 100 strip road maps to a scale of 1 inch to a mile, with miles and furlongs marked and numbered.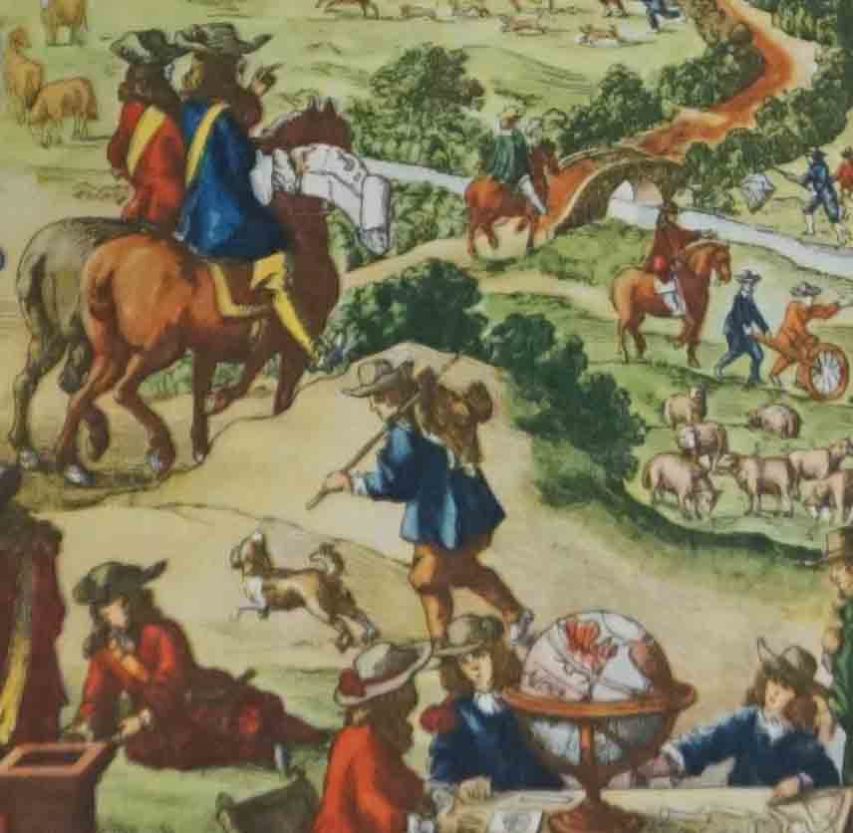 The strip maps were illustrated by hand-coloured engravings by Wenceslaus Holler, one of the foremost engravers of his time. These extravagant illustrations made the end product so expensive that the travellers it was intended for could not afford them. Cheaper black and white editions were later produced for the mass market. A facsimile of the coloured 1675 edition, a 1698 folio and a 1699 concise edition are held in Manchester Central Library.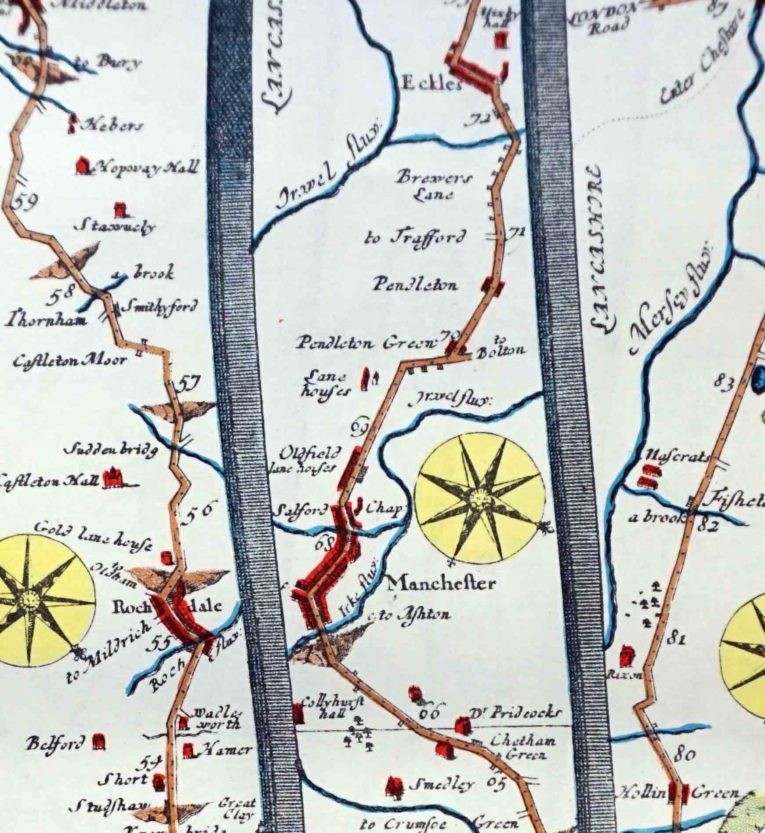 Plate 89 in Britannia shows the York, Leeds, Rochdale, Manchester, Warrington section of the Great Road from York to WestChester. The strip of map that covers the Manchester to Eccles road (above) clearly shows Oldfield Lane and Pendleton Green; the fork at the present A6 to Bolton is marked, including a property in the fork itself, where the Woolpack Inn (or an earlier incarnation) may have stood then. Half a mile along the road, Pendleton is named, and a further half mile shows a left turn to Trafford, where the current Weaste Lane runs. From there, the map has around a mile and a half run into Eccles, or Eckles, as Ogilby writes it.
One surprise is the name given by Ogilby to that stretch of road between what we know as Weaste Lane and Eccles, which he calls Brewers Lane. We can find no other reference to this place name in any other source (except a 1753 map by Emanuel Bowen which was based on Ogilby's). Significantly, there is no Brewers Lane mentioned in the registers of St Mary the Virgin, Eccles parish Church. Some of these go back to the 1560s and it was not uncommon for the baptism, marriage or burial registers to record where the person lived. There are numerous mentions of Broomhouse Lane, Sandy Lane, Hope and Ackersfield, but no reference to Brewers Lane. Nor have we found any evidence of brewers along this part of the road at this time. John Ogilby, raised in Scotland, presumably relied on local knowledge to supply the place names for his maps. Is it possible that to an ear unfamiliar with the local dialect, a Scot might hear 'Brewers' when an informant had said 'Broomhouse'?
1699 Edition Frontispiece reads:

The Traveller's Guide or, a most accurate description of the Roads of England Being Mr Ogilby's actual survey and mensuration by the wheel of the great roads from London to all the considerable cities and towns in England and Wales, together with the cross-roads from one city or eminent town to another.


Wherein is shewn the distance from place to place, and plain directions given to find the way, by setting down every town, village, river, brook, bridge, common, forest, wood, copse, heath, moor etc., that occur in passing the roads.


And for the better illustration thereof, there are added TABLES, wherein the names of the places with their distances are set down in a column, in so plain a manner, that a meer stranger may travel all over England without any other guide.


London, Printed by T. Ilive for Abel Swall, and sold by Tim Child at the White-Hart, and R. Knaplock at the Angel and Crown in St Paul's Church-Yard, 1699

1699 Edition Frontispiece
John Ogilby died in 1676 and is buried in St Bride's Church, London

---
Daniel Defoe's Tour
Daniel Defoe (c1660-1731), best known as author of Robinson Crusoe and Moll Flanders, was also a traveller and political and economic commentator. In the 1720s Defoe wrote 'A tour thro' the whole island of Great Britain', in which he described travelling the road from Warrington to Manchester and passing Chat Moss:

"From hence, on the road to Manchester, we pass'd the great bog or waste call'd Chatmos, the first of that kind that we see in England, from any of the south parts hither. It extends on the left-hand of the road for five or six miles east and west, and they told us it was, in some places, seven or eight miles from north to south."
This route to Manchester is the only road in Lancashire to feature in Defoe's tour, marking it out as a significant route.
Left: Daniel DeFoe by Michael Vandergucht, after Jeremiah Taverner line engraving, published July 1703 © National Portrait Gallery, London
---
Pre-Turnpike highways

The Victorian historian, William Harrison, who lived in Didsbury in the 1880s, studied the highways of Lancashire and Cheshire. Describing the road between Chester and Manchester, via Warrington as 'an old Roman Road, in great part if not wholly', Harrison states that Henry VII, in his royal progress of 1495 would have passed along it on his way from Warrington to Manchester. (Pre-Turnpike Highways in Lancashire and Cheshire in Transactions of the Lancashire and Cheshire Antiquarian Society Vol. IX, 1891).

Harrison looked at the development of roads from the Middle Ages to the beginning of turnpiking in the 17th century. He maintains that highways were in a far better condition in the 14th than 18th century, because travel was more frequent and wide-ranging. Lancashire merchants were reported to be taking their textiles and wools to fairs in Stourbridge in Elizabethan times.

The dissolution of the monasteries was a significant factor in deterioration of the highways throughout the 17th and 18th centuries. In the Middle Ages, monasteries possessed lands all over the country and there was a great deal of travel between them for both religious and commercial purposes. After the Reformation, there was a much reduced need for clerics and pilgrims to travel between distant monastic estates, which had been a common feature, and there was less inclination for churches and merchants to pay for the upkeep of highways.

Deterioration continued and in 1795, J Aikin wrote A Description of the County from Thirty to Forty Miles Round Manchester. In describing Eccles parish, he states, 'the roads in this, as in all other counties, are becoming an object of very general and serious concern'. By the start of 18th century contemporary commentators were describing Lancashire roads as scarcely passable for carriages and with ruts four feet deep.

A system of road maintenance based on 'statute labour', which had started in the mid 16th century, required occupiers of land to contribute annually materials and labour (later money) based on the value of their estates. The system broke down throughout the 18th century. Increased volume and weight of commercial travel between towns and cities created pressure on the physical infrastructure and resentment in the more rural parishes at being expected to maintain roads for the benefit of the urban centres. Statute labour was abolished nationally in 1835, and though some areas continued to exact payment from local inhabitants, the authorities in Salford did not.
---
Turnpike roads

The first Turnpike Act in England was as early as the 1660s and covered the Great North Road out of London. Each proposal for new toll roads required an Act of Parliament setting up a local Turnpike Trust to administer them, and they spread rapidly from the south throughout the country. Even so, when Defoe was touring in the 1720s, there were still no turnpike roads in Lancashire. William Harrison's map of the Turnpike Roads of Lancashire and Cheshire shows approximately when the major roads were turnpiked. (The Development of the Turnpike System in Lancashire and Cheshire in Transactions of the Lancashire and Cheshire Antiquarian Society Vol.IV, 1886)
In the early 1980s, Salford Education Department established an Educational Development Project which produced a number of Working Papers. Turnpike Roads in the Salford Area 1751-1879 by T.G.Ogden gives a very good account of the development and operation of the Trust. Ogden lists the passage of the first Act for Pendleton Turnpike Trust in 1753. This included the Pendleton to Lower Irlam section, along the route of our current Eccles Old Road.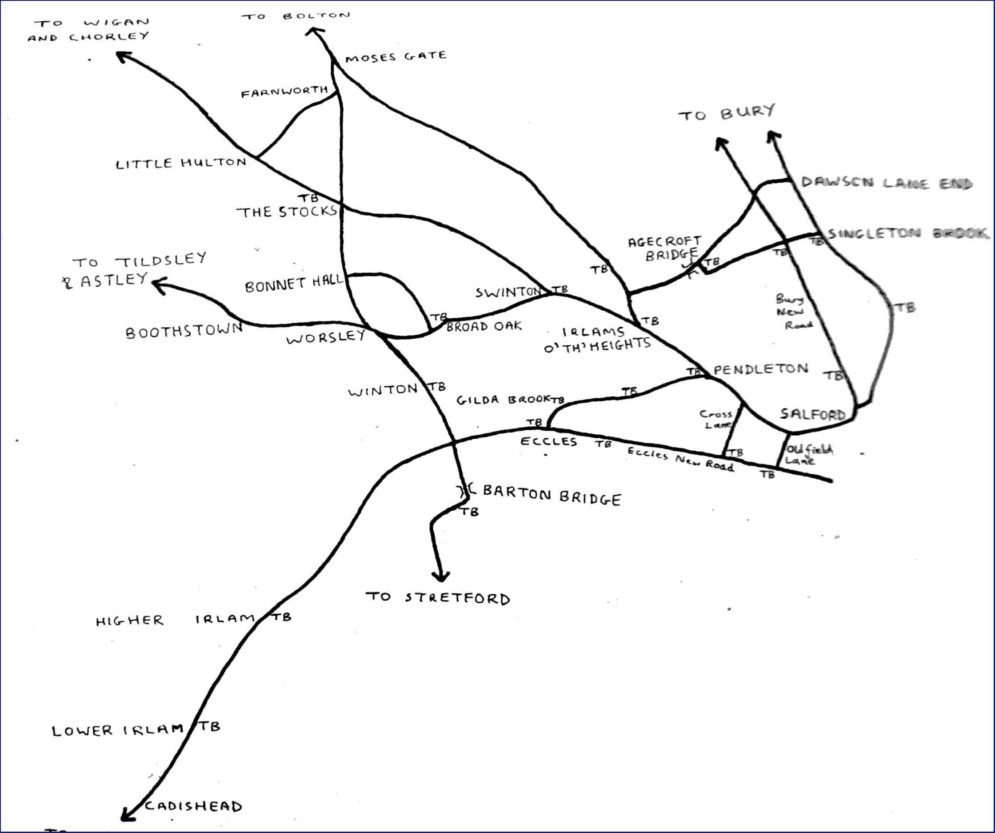 Pendleton was the only toll bar in the Salford area until 1784, when approval was given for additional collection points. It was probably at this time that the Pendleton Trust created further divisions, of which the Gilda Brook and Irlam division was one. A further Act in 1826 led to additional toll bars at Sandy Lane and Height Lane (in the area west of the current Lancaster Road).
Turnpike Acts were generally time limited and had to be renewed. On 4th August In 1853 a Pendleton Act named almost 180 Trustees responsible for five districts, including the Irlam and Gilda Brook District covering the route from the Woolpack through Eccles to Irlam. Many of the Trustees named lived along this stretch of road and in the areas adjoining. These included members of the Heywood, Potter, Agnew, Armitage, and Birley families, whose names may already be known to Salford readers. Other names may be less familiar, but their contributions to Salford and beyond have often been significant and will be covered across this site. These include Thomas Percival, Thomas Cooke, John and James Dugdale and Thomas Trueman.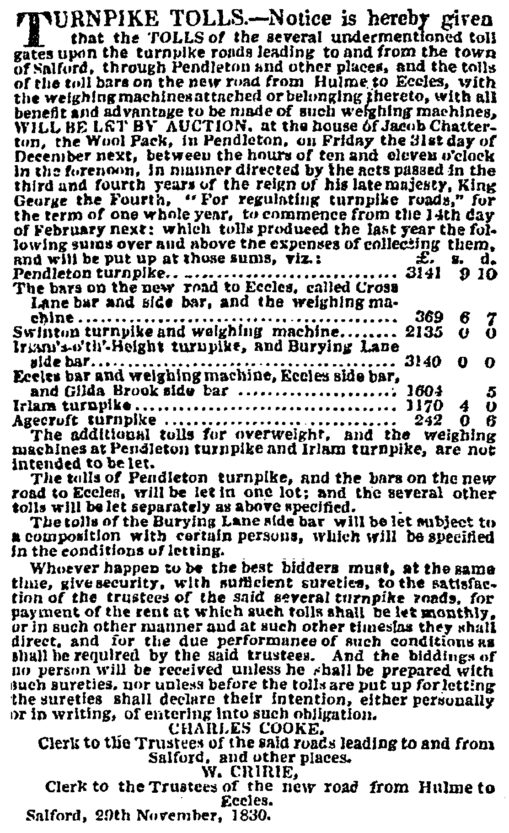 Toll charges depended on the type of vehicle, and some exemptions were specified. wagons with wide wheels were charged less as they did less damage to the road surface; funeral carriages (for both corpse and mourners) were exempt, as was manure.

The receipts / right to collect tolls were sometimes sold by the Trusts at auctions, advertised in the local newspapers. An auction to be held at Jacob Chatterton's Woolpack on 31 December 1830 showed that in the previous year, Pendleton Turnpike had produced £3141.9s.7d, 'over and above the expenses of collecting them'.
In 1840 a report of a Commission set up to inquire into the state of roads in England and Wales, concluded that overall, Turnpikes were not a financially satisfactory system. Although the accounts of the Gilda Brook and Irlam District were 'favourable', the long term viability of the system was a problem. Competition from the railways and canals made it hard for roads to generate enough traffic to pay for themselves through tolls. Yet turnpike roads had produced substantial benefits at a time when there was no other effective means of improving the transport infrastructure. Roads were improved, travel times reduced, commerce and the economy expanded.

The Acts governing the Pendleton Trust expired on 1st November 1871. The last set of accounts for 1871/72 were submitted for the complete winding up of the Pendleton Turnpike Trust on 30 January 1872. These show that the various Toll gates, building materials and weighing machines were sold for £513. 4s. 1d. The sale of the lands raised £913.14s. On the demise of the Turnpike Trusts, local Highway Boards were able to raise a rate and employ a professional surveyor to manage road maintenance and improvements.

The Eccles Old Road toll gates were opened free on 1 July 1870. The last two pennies paid at midnight on 30th June were preserved at Salford Museum at Peel Park until at least the 1930s, but it has not been possible to locate them.
---