John Simpson (1758-1802) of Hart Hill was a cotton spinner, industry innovator, property owner and magistrate. Born in Bonsall, Derbyshire in 1758, John Simpson was the third son of Adam Simpson, whose family had amassed a sizeable fortune over three generations through extensive lead mining and smelting operations. John's elder half-brother inherited the mining business on Adam's death in 1782 whilst John and his brother Samuel turned their sights to the Manchester cotton industry where they were partners in a lucrative cotton spinning business. In 1783 John Simpson and Elizabeth Hawksley had married at Nottingham.
The Arkwright connections In 1771, Richard Arkwright Snr (1732-1792) had set up a spinning mill at Cromford in Derbyshire, less than two miles from John Simpson's birthplace at Bonsall. In 1780 Arkwright's son Richard married Mary, daughter of Adam Simpson. Arkwright Senior was reportedly against the marriage; it is not clear what his objection was, but it may be an indication of how strongly he felt about the match that the wedding did not take place until one month before the birth of the couple's first child, Elizabeth.
Relations between the families must have improved to some extent after the marriage, as Richard Arkwright senior was in partnership in 1782 with John and Samuel Simpson and two other businessmen together building a five-storey cotton mill in Miller Street, Manchester. In 1784 Richard Arkwright senior sold his share in the mill to his son, who continued the partnership with the Simpson brothers until 1786, when he withdrew to pursue other business interests.
Mr. Simpson's Cotton Works John and Samuel appear to have had a number of Manchester premises, both together and separately, from the late 1780s. Holmes trade directory of 1788 lists John and Samuel Simpson, Cotton Twist manufacturers at Brown Street; John Simpson, Cotton Yarn Dealer at Brown Street; Samuel Simpson, cotton works, Shudehill. John Simpson & Co also held warehouses in Spring Gardens, Riding's Court and Marriot's Court in Manchester.
By 1796 the Miller Street enterprise was operating as John Simpson & Co. by which time the partnership with brother Samuel may have been dissolved. John Simpson and John Barton continued to run the business as John Simpson & Co until December 1802 when they both died within three months of each other.
The 1803 inventory As a result of the deaths of John Simpson and John Barton in 1803 a full inventory of their joint assets at the Manchester Mill was taken and verified by their respective executors. The document establishes that John Simpson owned 75% of the assets whilst John Barton's share was the remaining 25%. The extensive document records all the fixtures and fittings – everything from the steam engines and mules down to brown paper and candles are meticulously documented and costed in order to establish the full value of their factory at Miller Street.
The document records two mills – Mill Number One (the Old Mill) and mill Number 2 known as the New Mill. Both have their own steam engines valued at £1640 and £1565 in 1803. The mill contents are recorded room by room providing a snapshot of the range of skills required to run a modern spinning mill. The rooms described include mule spinning rooms, joinery and turners' shops, pattern rooms, yarn storage and preparation, three counting houses and packing areas to name but a few. Additionally the contents of the mill yard and the warehouse at Ridings Court are similarly documented.
Expenditure and debts are also detailed as are payments to individuals. Samuel Simpson is paid large amounts on a regular basis suggesting he is recouping an investment. In 1799, for instance, he receives payments of more than £6,000. John Simpson's regular purchase of shares in the Ashton, Huddersfield, Peak Forest and Lancaster Canals and his Lottery involvement are recorded as are some interesting expenditures such as an organ (£20), cow (£11), carriage (£18) and £100 for the Pendleton Road. There are bills for Wedgwood and a large payment to William Joule & Co of £55 which is probably beer for the workers.
Customers and their respective accounts give a detailed view of Simpson's business associates. The list is long and detailed but significant names include Peel, Yates and Co, the Touchets and J & J Horrocks. The yarn they are buying would be used for the production of cotton cloth, including ginghams and stripes and calico for printing and dyeing. Yarn is also included in the inventory and indicates that the mill was set up to produce a range of cotton yarn in a wide variety of counts. Exotically named raw cotton, available from around the globe described in the 1803 inventory, includes Pernambuco, Georgia, India, Surinam and Demerara; some are telling reminders of the slave trade's close relationship with the Manchester cotton trade. The ability to spin all types of cotton from the finest to the coarsest, the number of mules with spindles in the thousands indicate high volume production and an impressive investment. The final assessment amounts to £114,084s 2p of which John Barton's share amounts to £28, 463s 2p.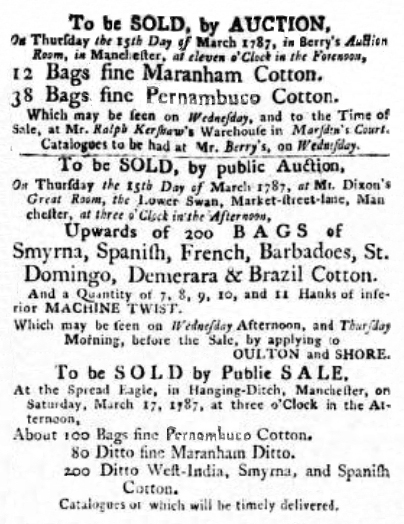 Some, if not all, of the mill buildings must have remained in the Simpson family as John's son Richard Simpson (born 1792) later took over the running of the Miller Street mill. The mill had a chequered history suffering devastating fires in 1839, 1854 and 1861 and a chimney collapse in 1859. Nevertheless the mill was rebuilt and extended with an additional floor at some point. The mill ceased to be a spinning mill some time after 1839, by all accounts when it could no longer accommodate the newer wider spinning frames. When the uninsured mill, now being used for cotton waste storage, was badly damaged by fire, Richard sustained losses of £5,000. The Manchester Guardian report of the event on 3 May 1854 gives a description of The Fire at the Old Factory
Despite this extensive damage the mill survived a further 85 years, until it was completely destroyed during a bombing raid in the 1940 Blitz.
'The mill……was a very extensive one being five storeys high, upwards of 200 feet long and 30 feet wide. In the centre of the mill, on the outside was a wooden staircase affording communication with each story. The rooms were not partitioned off, but extended the whole length of the building.'
Archaeology In 2015 Oxford Archaeology undertook an extensive archaeological investigation of the Angel Meadow area in central Manchester, including the mill complex and the factory originally built by Arkwright. The archaeology concluded that the mill had had several phases of development under the Simpsons, including remodelling and extending the mill building and providing ever efficient sources of power.
The Simpsons at Hart Hill Thomas Percival's departure from Hart Hill in 1783 did not lead to John Simpson's immediate tenancy. It appears that Hart Hill may have had another tenant until 1794 when John Simpson's name appears on the land tax records for the first time. This date coincides with the December 1794 baptism of John's son Francis which takes place at St Mary the Virgin, Eccles, as does the birth of son Charles (also later baptised at Eccles). Banck's Manchester and Salford Directory of 1800 appears to be the first directory to give Hart Hill as John Simpson's home address.
Little is known about Simpson's life outside work. We know he was a Justice of the Peace for Lancashire, sitting on the bench alongside Thomas Butterworth Bayley and William Leaf. Local newspapers hint at his enjoyment of Hart Hill's rural environment as in 1795 he was elected as a subscribing member of the Manchester Society of Agriculture; shortly before his death he applied for a game license.
John Simpson died in 1802 at the age of 44 and was interred in St Mary's parish church in Eccles. A description of the church, written in 1864 by John Harland, records that a tablet was erected on the north wall of the porch, with the memorial inscription:
'To the memory of John Simpson, Esq., of Hart Hill, in this parish (whose remains are deposited in a vault beneath the Communion table), an active, upright magistrate, a sincere friend, a valuable member of society. He departed this life Dec. the 24th, 1802, aged 44 years. And of Elizabeth his wife, who departed this life Jan.12th, 1812, in the 53rd year of her age.'
This tablet has since been lost with no record of what became of it. An obituary appeared in the Manchester Mercury a few days after John Simpson's death, describing a man who may have been more respected than liked by his contemporaries:
'Died: On Friday last John Simpson Esq. of Hart Hill near this town, one of His Majesty's Justices of the Peace for the County of Lancaster whose memory will be long respected by his friends and the public. He was a man of disinterested friendship, generous without ostentation, practical in his dealings; despising flattery and dissimulation. His manners were peculiarly marked with an ingenuous frankness of temper united with candour and liberality. As a magistrate he discharged the duties of that important situation with strict impartiality, inflexible integrity and unremitting attention; and to sum up his general character, he was universally acknowledged to be a truly upright honest and valuable member of society.' *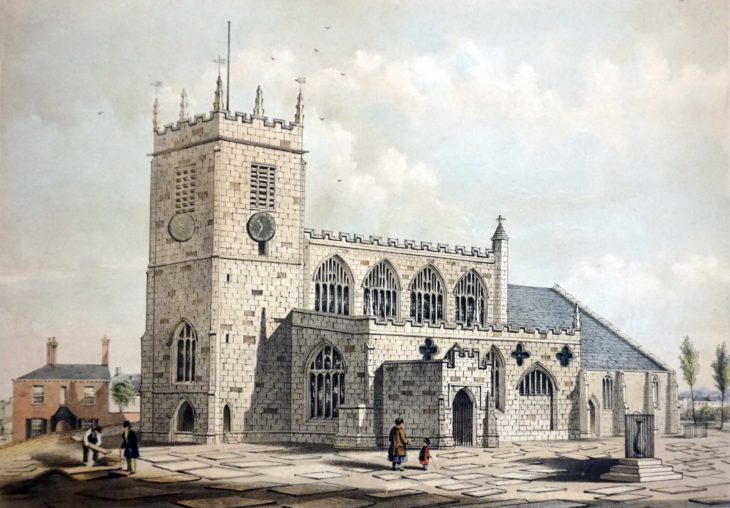 John Simpson had seven children, five of whom survived infancy spending much or all of their childhoods at Hart Hill. Richard followed him into the cotton industry, his youngest son Charles was killed at the Battle of Waterloo at the age of 21. Francis joined the church and became a vicar in Yorkshire, living at Foston Hall. Daughter Mary married a Royal Navy officer and lived to the age of 100, dying in Cornwall in 1899.
The wills John Simpson died in his early 40s leaving a long and detailed will, appointing his brother Samuel and Richard Arkwright jnr as executors and trustees. He gave them control of all his factory and factories, edifices, erections, buildings, messuages and dwelling houses, lands and tenements, canal shares and hereditaments – freehold or leasehold, wherever situate, in residue of ready money, debts, machinery, fixtures, utensils of trade, stock in trade and all personal estate and effects. The trustees were able to sell real and leasehold estates and canal shares for the best price to be invested and held in trust.

The value of John Simpson's personal probate, estimated between £80,000 and £90,000, was to be invested by his trustees and support his wife during her life. He also made bequests to his four sons of £20,000 each on attaining 21 years of age. Daughter Mary inherited £4,000 on her marriage or at the age of 21, which ever came first, a familiar condition in wills of the time.
Just ten years later Elizabeth, relict of John, died leaving her own considerable fortune including all the rest of the money, plate, linen, cattle, horses, carriages, foddering and goods and chattels to her children with the exception of son John. Her sole bequest to him was the picture representing the appearance of our blessed saviour and his two disciples.
The profligate son The eldest son John (1788-1867), was educated at Eton and in 1814 was married at St Mary's, Eccles to Margaret Hobson, daughter of neighbours Edward and Elizabeth Hobson of Hope Hall. Unfortunately, John did not inherit the work ethic or financial and business acumen of his father and uncles. He was a profligate gambler, who in 1811 appealed to his uncle Richard Arkwright Jnr. to cover a debt of £2,000 that he had incurred at Chester races.
John Simpson Jnr. and Margaret continued to live at Hart Hill after Elizabeth Simpson died in 1812. Elizabeth had specifically excluded her son John from her will and he inherited only £30,000 from his father's and uncle's considerable wealth. The largest sum of £18,000 was from Samuel Simpson who died a bachelor at Matlock in 1834.
John Jnr. had three children born at Hart Hill who were also baptised at St Mary's Eccles between 1815 and 1818. The family had left Hart Hill by 1823 and were living in Salthrop House, Wroughton, Wiltshire by1851. At his death in 1867, John Simpson Jnr. was worth less than £10,000.
Interestingly, Hart Hill's link with the Simpson and Arkwright families was renewed around 50 years after they had left the house when the granddaughter of Richard Arkwright and Mary Simpson married James Broughton Dugdale in 1877. It was his father James Dugdale who demolished the old Hart Hill house and rebuilt it in 1859 in the Elizabethan Style to the designs of Walter Scott, architect of Liverpool.
* Thanks to Evelyn Vigeon for John Simpson's obituary