Thomas Trueman of Hart Hill (1781-1858) was a banker, merchant, hospital trustee and inspector and philanthropist.
Thomas Trueman lived at Hart Hill for over 30 years from around 1822. He was not a local man by birth but moved to Manchester around 1812, possibly from London, with his wife Alicia and their two sons. Between 1813 and 1817 three other children were born in Longsight, Manchester. The first reference to Hart Hill as Thomas's home is in 1823, when his daughter Mary was born.
The following year Baines Directory lists Thomas Trueman as a cotton merchant, living at Hart Hill. This is unlikely to be Thomas's eldest son, Thomas Richardson Trueman, who did indeed become a cloth and yarn merchant, but he would have been barely 15 years of age in 1824. It is more likely that the directory refers to Thomas Trueman snr, who made his name in the banking profession, but also styled himself, including in the 1841 Census, as a merchant.
The Manchester and Liverpool District Bank Thomas Trueman was the chairman of the Manchester and Liverpool District Bank for many years. Consequently his name appears in the regular newspaper reports of shareholders meetings. The bank was a joint stock bank with the capital raised through shares. This substantial provincial bank, a forebear of today's RBS, developed in the late 1820s in Stockport in support of the local hat-making industry. By 1830, branches had opened in Manchester, Liverpool and Oldham. In 1833, the list of £10 shareholders totalled 938 and the bank's capital amounted to almost £410,000.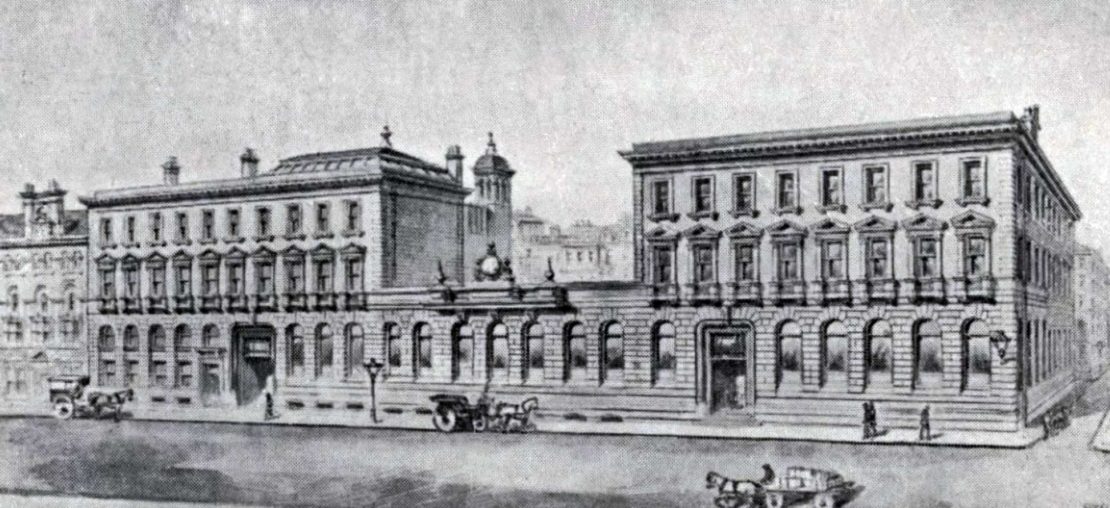 Thomas Trueman and his neighbour Robert Gardner of Chaseley, on the Eccles Road were both shareholders in 1839 when the bank ran into financial difficulties. They agreed to act as auditors when two large account holders incurred losses of £56,000 resulting in the resignation of the bank's manager. The situation was made worse by a theft of over £5,000 from a coach transporting cash and gold between branches. A Board of Managing Directors was appointed to take over the running of the bank and in 1840 Thomas Trueman became its Chairman.
Over the next 40 years the bank became one of the north's leading joint stock banks, with its imposing head office at 55 King Street. The motto of the Bank – 'Decus Prudentiae Merces', "The Honour and Reward of Prudence' is still prominently displayed in the original Stockport bank today, may well sum up Thomas Trueman's success as a banker and businessman.
In 1845, with his eye for a business opportunity, Thomas was promoting the newly established Manchester and Liverpool Plate Glass Company. The repeal of excise duty on glass had boosted the industry and an advert appeared in the Manchester Courier and Lancashire General Advertiser for a manager for the company's factory: 'as it is intended to engage the first talent and experience obtainable, a liberal salary will be given.'
A Banker with a social conscience Thomas Trueman was an astute business­man and trusty financier, but he was also clearly a man with a strong sense of responsibility for those less fortunate. Local newspapers chronicle his activities as a subscriber to various funds established to support those in poverty.
As early as 1815 he was reported leading a fund established to support the destitute family of Josiah Bor, a Salford man who had been executed for forgery.
In 1826 he donated £25 to a fund for Relief of the Necessitous Poor; in 1835 he subscribed to a fund for the relief of Irish Clergy; and in 1847 he was member of a committee set up for the relief of the poor of Scotland and Ireland.
Possibly prompted by the death of his 15 year old daughter, Josephine in 1828, who was interred at St Mary's Eccles, Thomas's name appears amongst the first to donate £5 and to commit to an annual subscription of a guinea to establish a children's hospital, the General Dispensary for Children. He soon became a member of the children's hospital committee. This seems to have been the start of his 30 year commitment as a visitor and inspector of hospitals and asylums in Salford and Manchester, an undertaking in which his son Thomas Richardson Trueman joined him. In 1837 both Thomas and his son were visitors/inspectors at the Manchester Royal Infirmary and Lunatic Asylum.
In 1834 he donated £100 to support the establishment of an asylum for the blind, to be founded by an endowment of Mr Henshaw's will. His neighbour at Buile Hill, Thomas Potter, joined the committee to oversee the management of subscriptions.
By 1839 Thomas Trueman was a vice-president of the Pendleton and Salford Royal Dispensary and in 1844 he was reported to have made a donation of five guineas to an appeal for funds for the Manchester and Salford Asylum for Female Penitents. He continued to hold offices on the boards of Salford and Manchester hospitals and asylums throughout the 1840s and 1850s.
A year before the death of his wife Alicia, the Truemans joined in the Whitsun festivities by opening up a field at Hart Hill for the procession of local Sunday School children to congregate.
Family life at Hart Hill Thomas Trueman appears to have led a quiet, stable and private family life at Hart Hill from the early 1820s to 1856. He had seven children, two of whom were born there. As a Dissenting family, all were registered as Non-conformists at a Union chapel in London.
The 1841 census at Hart Hill shows a 60 year old Thomas, with his wife Alicia, 50, daughters (Louisa) Matilda and Mary, William Cadwallader, a 35 year old man-servant, and five female servants. These included Grace and Ann Dowie, two sisters in their 40s, whose mother Ann Fenkle, lived in Hart Hill Lodge until her death in December 1843. These women came from Whitby, Yorkshire, and it appears they had been with the family since the Truemans first came to Manchester around 1812. On Grace's death at the age of 57 in 1852, a notice in the newspaper, presumably placed by Thomas Trueman, paid tribute to her 'for forty years an esteemed and confidential servant.'
Ann Dowie continued to work at Hart Hill and is listed again in the 1851 Census as a Lady's maid (the family also employed a 12 year old boy as a 'Page'). She died in 1867. St Mary's churchyard in Eccles has an inscription in memory of Ann Fenkle, her daughters and William Cadwallader, who died at Hart Hill in July 1843 aged 39. It is possible that Thomas Trueman provided this grave for his staff and is an indication of the respectful relationships in the household.
The Trueman children Thomas's children appeared to have prospered and several travelled to Europe and the USA. His eldest son, Thomas Richardson Trueman, lived for a time at Vine Grove, a terrace of houses on Eccles Old Road next to Summer Hill. He later lived at Preston Avenue at Gildabrook, trading as Trueman and Barlow, Cloth and Yarn Merchants in Mosley Street. The second son, Charles Joseph, moved to Kent where he married and lived for many years. He died in San Remo, New York in the late 1870s. The eldest daughter, Alicia, died in Paris aged 73. The two youngest daughters, who were born at Hart Hill, both married at the British Embassy in Paris. Mary's husband appears to have been an Italian nobleman, and she died in New York in 1901 as the Countess Benvenuti.
Moving on When his wife Alicia died in 1854, Thomas was 73 years old. Hart Hill may have become too large for his needs and expensive to maintain. Whatever his reasons, in 1856 Thomas decided to sell the house and move into Manchester. An auction was announced to sell off some of his effects.
Thomas moved into Dover House, at 291 Oxford Street. Sadly, after over 30 years at Hart Hill he was to enjoy his new home for less than two years, as he died in September 1858 aged 77 years.
Thomas Trueman was buried with his wife, Alicia, and daughter Josephine at St Mary's in Eccles. They were the last family to live at the old Hart Hill. The new owner, James Dugdale, would demolish the white stucco house and replace it with Walter Scott's 1859 design.