No. 5 Eccles Old Road, Grange Villas
Nos. 3 and 5 Eccles Old Road, known as Grange Villas, were a pair of semi-detached houses built on the plot west of Oakfield sometime before spring 1881. We know from the 1911 census that the houses probably had around seven habitable rooms.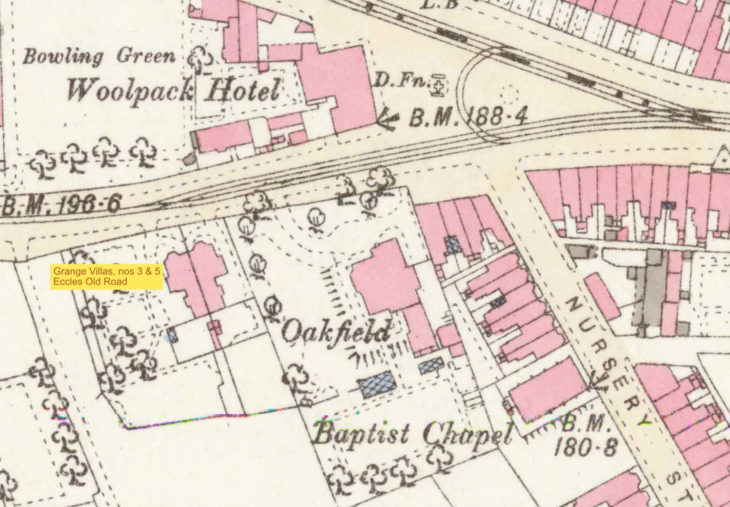 1881 The first known occupants were recorded in the 1881 census. They were the family of Peter Keevney, a 48 year old Tea Dealer from Ireland, who was an employer of six men, seven girls and three boys. His household in 1881 consisted of his wife, Mary J, 47, born in Rawtenstall, and two daughters, Marion, 14 and Lizzie, 12, both born in Farnworth.

1891 On 21 May 1890, Henry Kellett, of No 5 Eccles Old Road, died. Henry lived with three of his adult children. He had run a successful chemist and druggist practice at 87-89 Chapel Street leaving £5,913 in his will. The three siblings were still living at No 5 when the census was taken in 1891 despite the advert above which appeared in June 1890. The household head was recorded as Lucy Kellet, age 27, her 26 year old brother Walter, a Drysalter, and their 24 year old sister Bertha. All had been born in Salford, as had their domestic servant, Clare Counall, 19. Lucy moved the following year to 1, Brentwood, from where she married Frederick Knight, a Clergyman. They later lived at rectories in Droylsden and Ancoats.
1892- Kelly's Directory listed No 5 with the house name 'Kilchurn'. Its occupant in these years was Howard Curtis Sacre, a chemical manufacturer. His son, Lester Howard Sacre was born there in 1892 and a few years later was photographed ready to attend a fancy dress ball in the costume of the Mayor's Chaplain.
1901 Occupied by Thomas Cleworth, 35, a building contractor. He had lived on Hankinson Street as a child. Trading as Cleworth and Robinson, around 1905 it was his company that built the five pairs of semi-detached villas on Halton Bank which stand today on the north side of the road.
1911 Although No.5 was vacant on the spring night that the 1911 census was taken, it is likely that the Family of William Barnett moved in shortly afterwards from their home at nearby 52 Highfield Road. William recorded himself on the 1911 census as a Taxi Cab Owner, and 10 years later he is listed in a 1921 trade directory as a motor haulage contractor at 5 Eccles Old Road.
We know that William had a son, Percy, who celebrated his birthday on 21 February 1912. A birthday greeting postcard from his mother was posted to Percy at 12.30pm on 20th February and no doubt arrived early on the 21st. The message reads, 'Dear Percy, Many, many happy returns of the day and a hundred after them, Your loving Mother'.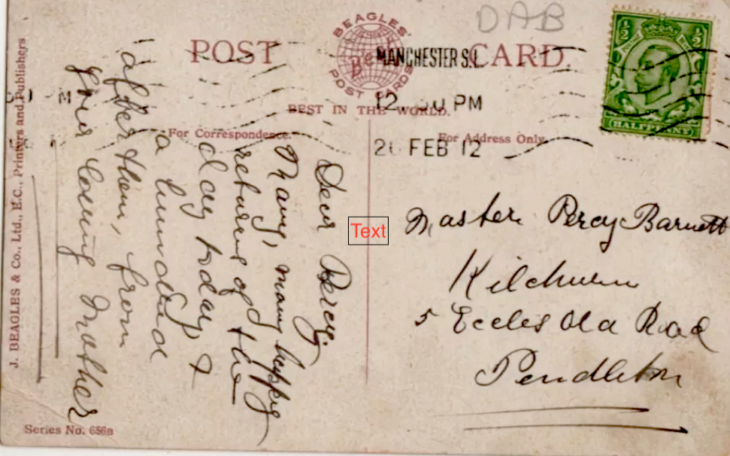 Birthday postcard from Jane Barnett to son Percy at 5 Eccles Old Road, 1912. Over 32000 Victorian and Edwardian greetings cards are held in the Laura Seddon Collection at Manchester Metropolitan University
Percy followed his father's trade, and we find him in 1924 at Gilda Crescent Road, at the other end of Eccles Old Road. His marriage entry in St.Mary, Eccles register records both his and his father's occupation as Taxi Driver.
1922 5, Eccles Old Road is taken by Joseph Garsden and his wife, Priscilla and continues to be used as a motor garage.
1939 By the time of the 1939 Register, Joseph is described as a Garage Proprietor and his 35 year old son, also Joseph, as manager. The adjoining No 3 is vacant at this time, and it appears that Garsden took over both properties.
Road widening between Langworthy Road and Nursery Street required the purchase of buildings and frontages along Eccles Old Road. In most case the walls were set back and new boundary walls were constructed with trees and privets replaced. It was necessary to purchase 3 and 5 Eccles Old Road No 3 was bought from J Clitheroe, No 5 from J Garsden.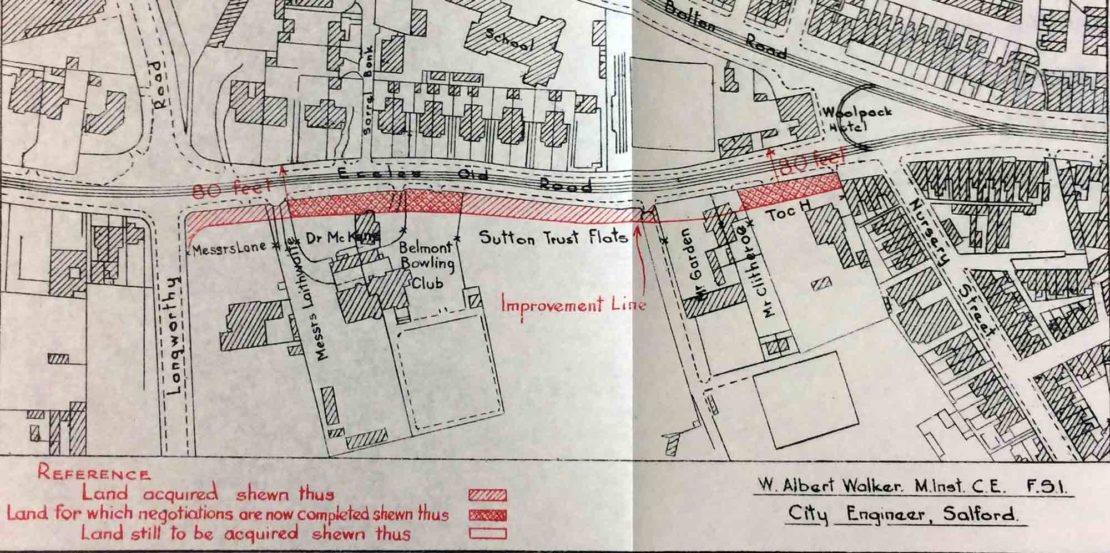 1950s & 60s Priscilla Garsden died in 1948. Joseph would have been over 60 (he died in 1964) and it appears he had handed the business to his two sons. Directories in the 1950s show brothers Joseph and William, Garage Proprietors. Maps and photographs from the 1950s and 60s indicate that the Garsdens lived in a house built on the site of No 3, with the expanded garage on the site of No. 5. By the 1960s the premises were known as Blue Star Garages Ltd.

Stan Sumara's reminiscences of the Blue Star garage. In June 1970 Stan graduated from Liverpool University followed by further training as a solicitor. Prior to taking up a solicitor's post Stan was employed at Hope Hospital on £16 a week and, to further supplement his income, he took a job at the Blue Star Garage on Eccles Old Road, where he worked evenings and some weekends. This was at the time of decimalisation and cash payments formed the majority of purchases. 5 star Texaco petrol was 7 shillings a gallon often accompanied with promotions such as 'have drink on me' which referred to free tea bags with petrol purchases! Stan and his partner John Siddall from Strawberry Road were 'front of house' working as petrol pump attendants. Stan later advanced to tyre fitting and battery sales which were often bought on hire purchase. The manager Mr Langley and his wife lived next to the garage in a detached house and may also have been involved in the Blue Star garage on Bolton Road. To the rear of Eccles Old Road garage was a workshop area, often used by individuals repairing or servicing their own vehicles. The garage also sold sweets with the children of Sutton Flats provided providing passing trade. Stan's promotion at the hospital now meant working shifts and he left the Blue Star garage. He later had a long career as a solicitor and devotes time to local history and his garden.