Prospect Hill, as its name suggests, commanded a fine view over the Cheshire plain. The house stood on the south side of what was once known as Sandy Lane, less than a quarter of a mile from the Woolpack Inn and the Pendleton Toll gate. The site is now the corner of what we know as Eccles Old Road and Langworthy Road, west of Laithwaite's Funeral Directors.
Prospect Hill Timeline
1815 First evidence of John Walker's dwelling at Prospect Hill. The earliest map showing a house here is the 1815 Pendleton Township map, which indicates that Walker Esq. had a good size but simple rectangular dwelling, set in a wooded garden west of Strawberry Field. This was John Walker (1753-1827), who may well have been the man who first built and named the house on this site.
1821 Pigot & Dean's New Directory listed John Walker Sen. at Prospect Hill Pendleton. It also listed a Samuel Walker, cotton merchant trading at 1, Barton's Buildings Manchester with a house called Sandywell in Salford.
1828 John Walker died ; his son Samuel Walker (1787-1856) inherited Prospect Hill.
1845 The Ordnance Survey map of 1848 (surveyed in 1845) shows a much larger house with two outbuildings. The garden also appears to have been extended over what was previously marked as Barn Field. Langworthy Road had not yet been laid.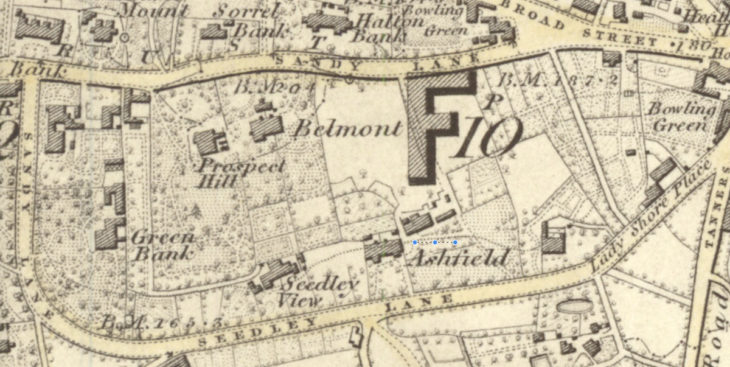 1856 Samuel Walker died, leaving Prospect Hill to his barrister son John Walker (1831-1889). It appears that John and his widowed mother did not wish to stay in Manchester and John sought a suitable property to purchase further south. They were still at Prospect Hill in October 1857 and it was not until March of the following year that they were able to put the house up for rent.
1858 An advert appeared offering:
"TO BE LET, A Substantial Family HOUSE containing three entertaining, and one smaller, rooms, with the requisite offices on the ground floor; eight bedrooms and two dressing rooms, on the one pair, with additional bedroom with staircase from the outside; ample stabling, lodge, coachman's cottage, and large pleasure grounds. For particulars apply to John Walker Esq., Prospect Hill, Pendleton…"

Manchester Courier and Lancashire General Advertiser 20 March 1858
1861 John Appleby, a calico printer and later local alderman for Seedley ward was living at Prospect House with his wife, ten children and three female servants. His groom, James Wood lived in the lodge with his family. Appleby was a member of the Friends of the Manchester School of Art and had worked for the re-election of Salford Liberal MP W.N. Massey in 1859.
1871 By the time of the 1871 Census, the long occupancy of Prospect Hill by the Roberts family of solicitors had begun. Ten years earlier they had been living at The Laurels, a few hundred yards further west down Eccles Old Road on the northern side. James Roberts (1815-1875) would have been well positioned to spot when the imposing house with a view became available.
On census night 1871, James and his wife were not at home, but were staying in a lodging house on Southport's Promenade with their 18 year old daughter. At Prospect Hill, three Roberts boys, aged between eight and sixteen were in the care of Elizabeth Curwell, the family's 45 year old servant.
1875 A partner in the firm of Chapman, Roberts and Beck of Fountain Street, Manchester, James died at 60 years of age in 1875. His will left all his property in the hands of his trustees, but provided for his wife, Margaret, to "have occupation and use of the dwellinghouse in which I now reside with the garden and land adjoining situate in Eccles Old Road". Her occupancy was conditional upon her remaining a widow, which she did until her own death in 1889.
1877 Salford Archives records that Mrs J F Roberts commissioned builder James Grundy to add a billiard room to Prospect Hill. Many of the large houses along the road were extended or altered around this time to accommodate this new 'must have' facility.
1880 Langworthy Road had recently been constructed, taking a strip of Prospect Hill land from its western side. The Ordnance Survey map published in 1893 was surveyed in 1889 and shows the extent to which the new road had reduced the size of the Roberts family gardens. No doubt they received appropriate payment for their land from Salford Corporation.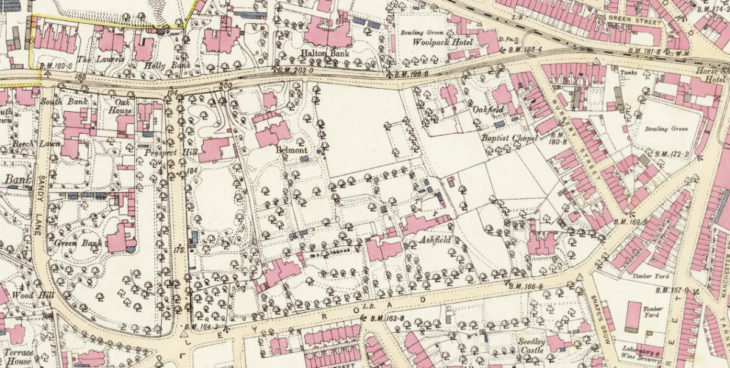 1881 The census return shows widow Margaret Roberts, with two of her sons, living on the annuity left to her by her late husband. They employed three female domestic servants from Surrey, Staffordshire and Scotland.
1889 With Margaret Roberts' death, Prospect Hill passed to the three sons. James Woolley Roberts had married and owned his own house. Arthur Wroe Roberts and Humphrey Wroe Roberts, also both solicitors, were still living at Prospect Hill unmarried and continued to do so until they died in 1908 and 1918, having lived most of their lives in this same house.
1893 The updated Ordnance Survey map shows a much larger property than on the 1848 map, with a bay window to the western frontage. The plot of land is narrower, having lost a section on the western side when Langworthy Road was created. The gardens are more formally laid out.
1918 The death of Humphrey Wroe Roberts saw Prospect Hill pass into the ownership of a new family for the first time in over 40 years.
1919 Slater's Trade Directory tells us that the next and last residents of Prospect Hill was the household of Charles Hartley. Charles was a cotton Cop Dyer.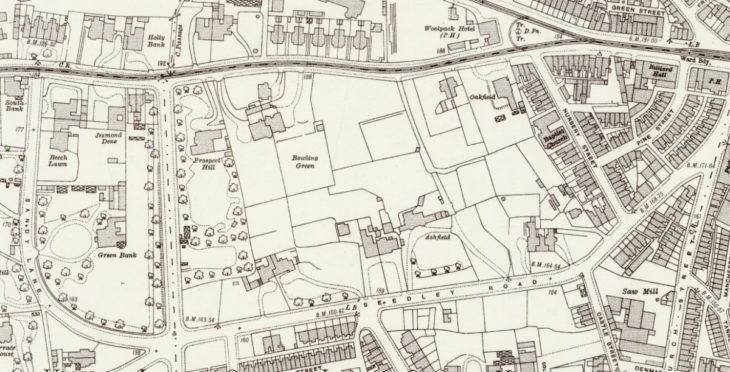 1932 Charles Hartley would have been 66 years old when he and his wife Marion left Prospect Hill and retired to live at 6 Cambridge Grove in Eccles.
1933 – 1938 The site of the grand house at Prospect Hill lay vacant for the next 6 years. In 1939 a new no. 17 Eccles Old Road, a more modest house, was first occupied by watch, instrument maker and optician Irving Turner.