John Carver, 1793-1863, was part of a family of international cotton traders with companies in Lisbon, Gibraltar, Casa Blanca and Buenos Aires as well as in Manchester. John was for many years a chapel warden at Cross Street Unitarian Chapel in Manchester. Carvers lived at Belmont for over 40 years.
John Carver had been born in Leicester. By 1821 he was living in London, where he married Lydia Hudson. The couple were living in Gibraltar in 1825 when their son, William John Carver was born, and still there six years later for the birth of daughter Ellen.
The businesses involved his son William John, nephew Benjamin Carver who lived at Polefield House in Prestwich, and son-in-law George Stanley Darbishire, along with other partners in overseas territories. In his will of 1863, John's business partnerships were listed as John Carver Darbishire & Co. Manchester, Carver & Nephew at Gibraltar, Carver Son & Co. at Mazagan and Carvers & Co at Casa Blanca.
It is not known when the family relocated back to England, but by 1841 they were living at the comfortable Leaf Square in Salford. The 1851 census recorded them at Belmont. John Carver was by then 59 years old. Daughter Ellen was married to George Stanley Darbishire and living across Eccles Old Road at The Laurels. Son William John was unmarried and John's sister-in-law, Sarah Hudson, was visiting.
Ten years later, the domestic situation was little changed. John's wife Lydia now had both her unmarried sisters living with them at Belmont. John was recorded as a 'Cotton Goods Merchant' and at 68 years of age does not appear to have retired. In July 1863, he died, leaving an estate valued at under £70,000. One of the Executors was Charles Withington, surgeon, who was the son of the late James Withington, who may well have been the man who built Belmont around 1820.
John Carver's will shows that he had not sold his house at 13, Leaf Square, but left it for his wife Lydia during her life. She would also receive the income from all his shares in the Manchester Royal Exchange, whilst she remained a widow. After her death or remarriage, these would pass into a trust for son William John and daughter Ellen Darbishire and their heirs. Lydia's sisters Sarah and Ann were left annuities of £50 and £10 each.
John's son William John also received his father's two shares in the Manchester Union Club. Son-in-law and partner George Stanley Darbishire inherited a house, shares and land at 'Mazagan in Barbary'. All the income from John's businesses was to be held in trust, with £36,000 to be invested in the railways of Great Britain in to provide incomes for his wife and then his son and daughter and their heirs.
John Carver's death provided an opportunity for his son-in-law to commemorate the family's strong connection to the Unitarian movement and the Cross Street Chapel in Manchester. In 1864 the Manchester Courier reported that a large memorial organ was to be erected in the chapel behind the pulpit. At a cost of £800, the organ was being presented by George Stanley Darbishire in memory of his father who had been Treasurer of the congregation and of Mr John Carver, for many years chapel warden.
Lydia did not choose to move into the house at Leaf Square, but stayed at Belmont with her two sisters for the rest of her life, dying in 1874. Her estate was valued at under £2000. She attempted to redress the balance of her husband's legacies to her sisters by leaving them annuities of £50 and £70. Daughter Ellen was to choose goods from the house up to £20 in value, and received a lump sum of £500. William John, who would continue to live at Belmont got all other household goods. The residue of Lydia's estate was shared equally between the siblings.
William John Carver never married and appears to have led a quiet life after he retired. In 1881 aged 56 he is listed on the census as 'Retired Shipping Merchant'. His aunt Ann, then 85 years old is till at Belmont and they are supported by two female servants. Ann Hudson did not survive for the 1891 census, by which time William John had taken on a Butler, 45 year old Peter Lester Seerey.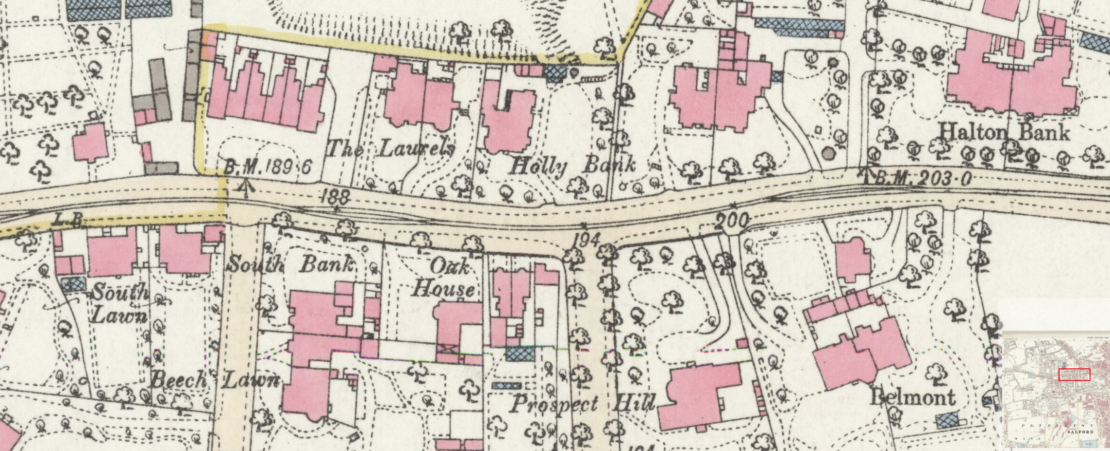 When William John Carver died in 1893, his estate was valued at just under £5900. His sister, who had died in 1882 left under £5000. Their father's estate of under £70,000 had been left in the hands of trustees, who were to invest the capital and distribute the income to his heirs. We assume that the children of George Stanley and Ellen Darbishire continued to benefit from their grandfather's financial arrangements for many years.
William John had given a good deal of thought to the distribution of his own more modest fortune. He left legacies of gold and silver watches, named paintings and monies (between £100 and £350) to various nieces, nephews and cousins. George Stanley Darbishire, his brother in law and business partner was left all the remaining artwork, his two shares in the Union Club Manchester, which his father had bequeathed to him 20 years earlier, and £725 six percent stock in the Lancashire and Yorkshire Railway.
Butler Peter Seerey, gardener William Pardoe and former valet Thomas Wells received £50, whilst two female servants received £25.
The unitarian Church and charity were generously recognised. William bequeathed £500 to the trustees of Cross Street Chapel, £300 to the trustees of the Manchester Domestic Mission for Undenominational Ministry amongst the poor and £300 to the British and Foreign Unitarian Association. Any residual estate was to be given to the trustees of the Fund for the Augmentation of Unitarian Ministers' Salaries.