Charlotte Cole (1844-1911) was one of a small number of domestic servants who spent most of their working lives in the service of one family. In Charlotte's case, this was one of the most prosperous and influential households in Salford and Manchester – the Heywoods of Claremont and Chaseley.
Charlotte was born in 1844 in the village of Withington, near Hereford. Her father was an agricultural labourer. At six years of age she was listed on the 1851 census, maybe affectionately, as Charlottey. By the time of the 1861 census, her father had established himself at New House, Yarkhill, as a farmer and quarryman, employing two men. The occupations of both his 52 year old wife and his daughter, Charlotte, now 16, were 'Domestic', though it is not clear whether this meant unpaid domestic duties at home or in paid domestic service.
By 1871 Charlotte Cole had begun her lifelong employment with the Heywood family. She had left Herefordshire and was living in Staffordshire at Dove Leys, the home of Sir Thomas Percival and Lady Margaret Heywood. She is listed on the census as the cook. This would have been a highly responsible job in a household with six children between the ages of four and 19, along with a governess and nine other servants. At just 27 years of age, Charlotte must have been a very capable and valued servant. Apart from an elderly dairy maid, Charlotte was the oldest of the family's seven female servants.
For the next 40 years it is possible to trace Charlotte as she accompanied the Heywoods between their Staffordshire, London and Pendleton homes. The oldest of the Heywood children was Isabel Mary, just six years Charlotte's junior. In 1874 a fire swept through Dove Leys and caused damage estimated at £50,000 with the loss of valuable art works and books. The Heywood's second daughter, Etheldred was almost a victim of the fire, but the servants' quarters escaped the worst of the disaster.
The house was rebuilt and Charlotte continued as housekeeper and cook. In 1881 she was there as the oldest of eight female servants. In April 1891 Sir Thomas and Lady Heywood were resident at the elegant 39, Lowndes Square, Chelsea along with Isabel and youngest daughter Mary Monica. Seven servants were with them, no doubt amply fed by 46 year old Charlotte.
Isabel, Etheldred and Monica lost both their parents during the 1890s. None of the sisters married and after 1897 they moved their main residence up to Claremont in Pendleton, Salford, the home of their late uncle Sir Oliver Heywood. Not surprisingly, Charlotte Cole was there with them on the 1901 census, looking after the three sisters, two guests and in charge of six female servants and a young footman.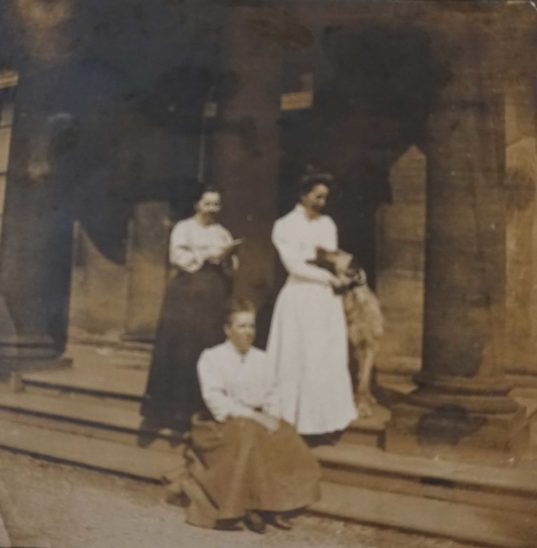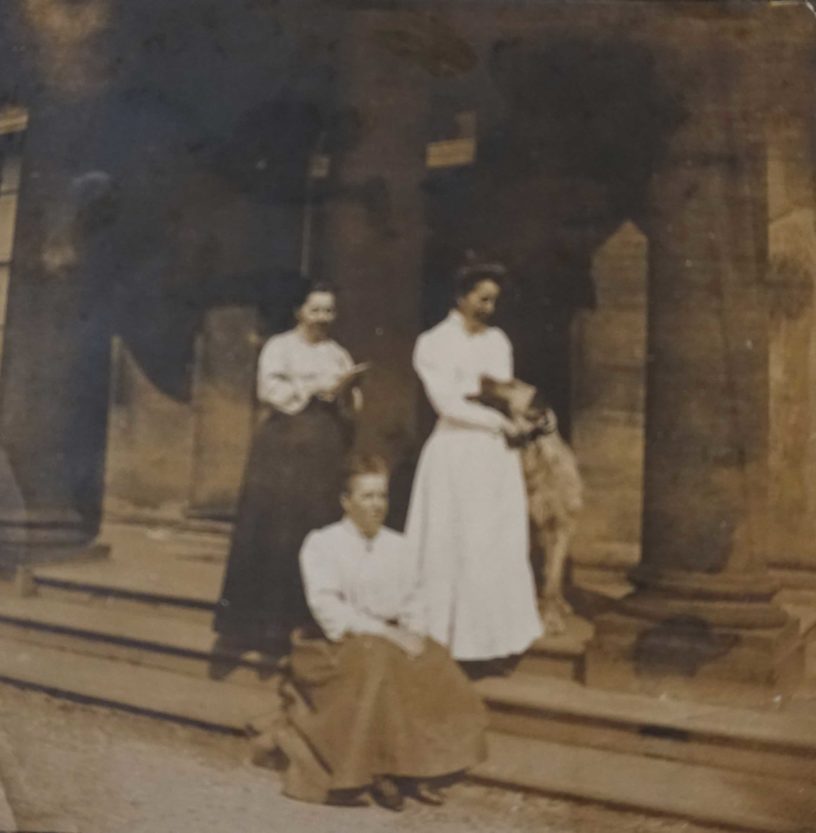 In 1911, we can get an impression of the scale of the task for the domestic servants at Claremont. The census tells us that the house had 30 habitable rooms (excluding bathrooms/WCs). The three Heywood sisters were supported by a butler, one other male servant, and eight female servants. Charlotte, then 66 and in poor health, was described as 'Servant (formerly cook)'. Another cook was in post and a sick nurse was also employed, most likely to take care of Charlotte.
Just two months after the 1911 census was taken, Charlotte died at Claremont aged 66. Despite the fact that she had lived with the Heywood family for most of her adult life, Charlotte's will, dated a little over a year before her death, gave her address as Covender House, Yarkhill. This was the home of her brother James in the Herefordshire village she had left 50 years earlier. James, a farmer, was named as Executor, along with her cousin William Morgan, an Encaustic Tile Maker. Three of William's daughters received bequests in Charlotte's will.
Her will also sheds interesting light on her relationship with the Heywood household:
My watch and chain given to me by the late Sir Percival Heywood I give to my second cousin Ethel Morgan and my gold broach given to me by Miss Heywood after forty years service I give to Gladys Morgan and my bag to Eva Morgan.
We have seen in the 1911 Census how a sick nurse was employed when Charlotte was too ill to continue as cook. Her will indicates that she still felt the obligation to settle what she saw as a debt to the Heywood family. She also showed her high regard for Isabel Heywood, who had founded the Manchester and Salford Blind Aid Society:
I instruct my executors to refund to the Misses Heywood…the expenses paid on my account during my long illness and I also bequeath to Miss Heywood… the sum of Fifty Pounds to be used at her discretion in aid of the Blind.
Charlotte Cole's estate was valued at £1,789.15s.4d. She left personal bequests of between £5 and £200, totalling £945 to 25 named family members and friends. These included five other servants at Claremont – the butler, gardener and three female servants received £5 or £10 each. Her female relatives were especially favoured, with seven daughters of her cousins each getting £50.
Her continued affection for her native Herefordshire was marked by Charlotte's largest bequest:
To the Vicar of the Parish of Yarkhill in the County in Hereford I leave in trust the sum of Three Hundred Pounds to be invested to give the poor of the said Parish of Yarkhill Christmas presents of Coal and Beef or Shoes and Clothing for the poor children.
The current Parish Council of Yarkhill has confirmed that Charlotte Cole's legacy continues to benefit the residents of the parish.