George Southam (1816-1876) served the people of Salford and Manchester for almost 40 years. Surgeon and academic, he was a major player in the development of medical education in Manchester. Practiced at both the Manchester Royal Infirmary and the Salford Royal Hospital and Dispensary for around 30 years. President of the British Medical Association.
George was the nephew of a surgeon, John Justice Southam. His own father, George John Southam was a grocer and provisions dealer and, intriguingly, the official muzzler of mastiffs and bitches. George's father and uncle were the sons of Sir John Touchet Chetwode (1732-1779) by his second partner Sarah Southam. The children of his first wife carried the name of Chetwode and inherited the title, while Sarah's four children took her surname.
George John gave his son a good education, sending him to Manchester Grammar School. In the 1830s George studied medicine at the Royal School of Medicine in Pine Street, Manchester and then in London and Edinburgh.
In 1841 Pigot and Slater's Trade Directory lists George Southam, Surgeon, living at 7, The Crescent, Salford. In 1842 he married Rebekah, daughter of Elkanah Armitage. The ties between the Southam and Armitage families were extensive and close. George's younger sister Elizabeth, would later marry Rebekah's younger brother, Benjamin Armitage (1823-1899). George's eldest son George Armitage Southam joined the Armitage family cotton spinning business, and at the age of 50 he married his first cousin, Mary Elizabeth, daughter of Benjamin and Elizabeth.
George appears to have moved between a number of Crescent properties over the next 10 years: he is at number 4 in 1847 (Slater's) and number 19 in 1851 (census). It was while he was living at the Crescent on 7 January 1857 that he was called upon to certify the sudden death of Salford's MP Joseph Brotherton. National and local newspapers reported the dramatic event:
THE LATE JOSEPH BROTHERTON, ESQ., MP Joseph Brotherton, Esq., the parliamentary representative for Salford died suddenly on Wednesday forenoon, in an omnibus while proceeding from his house in Pendleton to fulfil an engagement at Manchester. Besides Mr Brotherton there were also in the omnibus at the time Sir John Potter, and Sir Elkanah Armitage, two of his most intimate friends. He sat opposite to these gentlemen , and joined freely with them in conversation. When they had reached Albion Place, Sir John Potter's attention was attracted by a sudden change in Mr Brotherton's expression of countenance and he remarked the circumstance to his brother alderman (both Sir John and Sir Elkanah are aldermen). The remark had scarcely been made when Mr. Brotherton sank backwards on the seat he occupied, his eyes becoming fixed and glassy. They spoke to him but he never answered; and, although his eyes moved upwards two or three times before they finally closed in death, there is every reason to believe that he died almost at the very instant his illness was first observed. The omnibus had by this time proceeded about 150 yards after the alarming symptoms were first noticed, and it was now nearly opposite the residence of Dr G Southam, surgeon. Here the omnibus was stopped; and with the assistance of some of the passengers, the body was carried into Mr Southam's house. That gentleman was at the Royal Manchester Infirmary; but his assistant, Mr Pitman, was in attendance and pronounced life to be quite extinct. Mr Southam and Mr C Harvey, also a surgeon, were sent for and soon arrived; they agreed that human assistance could not have availed to avert, even for a time, the melancholy event.The intelligence spread rapidly through Salford and Manchester, producing, as may be imagined, a painful feeling and earnest expressions of regret……….The surgeons named, from their professional and personal knowledge, the one being his ordinary medical attendant, the other a near relative, declare that the death of Mr Brotherton was occasioned by disease of the heart.

The Daily Post, Liverpool, January 9, 1857
The 1858 Post Office Directory shows the Southam family, now with five children, living at the newly built house to the east of Belmont. Not yet named or numbered, by the 1861 census it is listed for the first time as No.1 Eccles Old Road. At the next census in 1871 the house is named Oakfield, and remains so for over 50 years.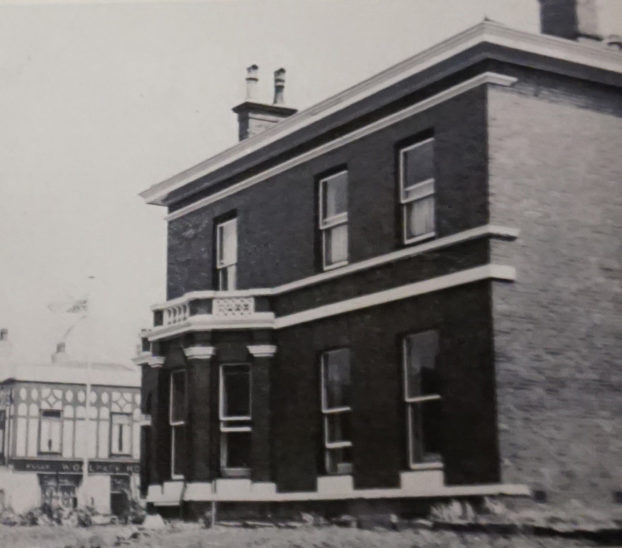 In 1846 George was appointed House Surgeon and later Surgeon at the Salford Royal Hospital and Dispensary. In 1847 he was appointed dispensary surgeon to the Manchester Royal Infirmary. Four years later he led the establishment of the Chatham Street School of Medicine in Manchester (at the corner of Chatham St and Grosvenor Street). The school was only the second of its kind (the first being Pine Street, where George himself had studied) and was a success, teaching anatomy and the principles and practice of surgery.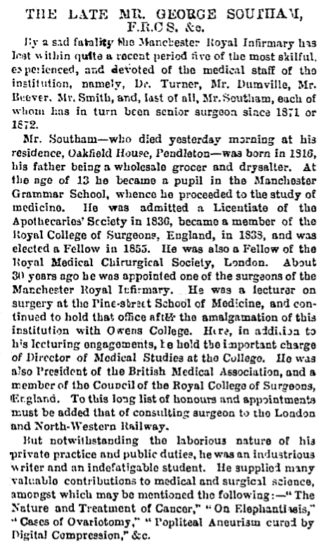 When the Pine Street and Chatham Street schools merged at Owens College, George Southam became joint professor of surgery and director of medical studies. He was a member of the Royal College of Surgeons from 1873 and president of the Council of the British Medical Association. An eminent and distinguished surgeon and academic, he published a wide range of papers, including those concerning the treatment of elephantiasis by amputation, of ovarian tumours, and on the nature and treatment of cancer.
George Southam died at Oakfield, 1 Eccles Old Road, on 24 April 1876. He was buried at St. John's Pendlebury. His wife, Rebekah had been buried there four years earlier.
Several other members of the family are also buried in St.John's: Frederick Armitage Southam's infant daughter Ruth in 1890 and George Armitage Southam in 1898. George Southam's daughter Ethel Armitage Southam, who had died at Castle House in Stafford at the age of 54, was brought back to be buried at St. John's in 1917. Ethel had never married and left an estate of a little over £3,600.
The Southam medical dynasty continued when George's son Frederick Armitage Southam (1850-1927), who had lived most of his childhood at Oakfield, also became a surgeon in Manchester hospitals, as did his son, Arthur Hughes Southam (1888-1970).