Oakfield, 1 Eccles Old Road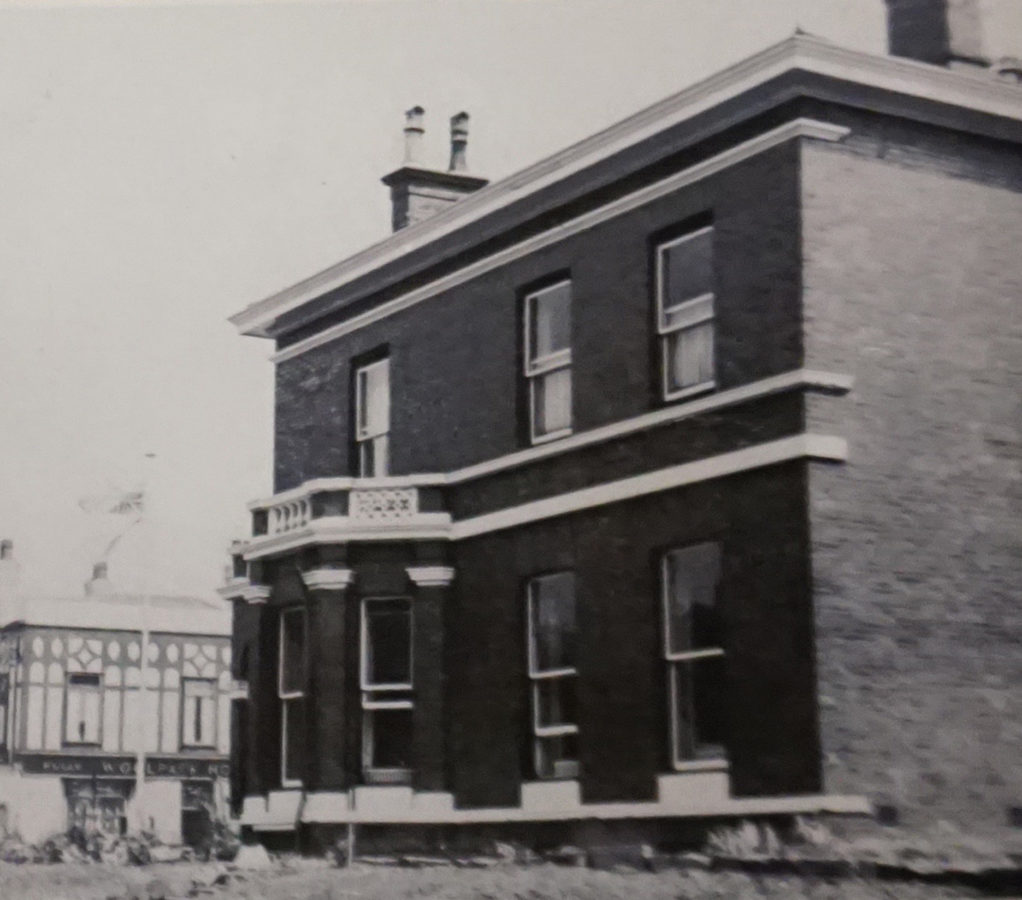 The house at No.1 Eccles Old Road was for its entire existence of around 100 years the home of people who spent their lives working for the physical, mental and spiritual health of Salford and Manchester residents. For almost 60 years it was occupied by a succession of the city's surgeons and doctors. For its last 40 years it housed the Salford branch of the Toc H movement, supporting its local community.

The Land

The land on which Oakfield was built had been part of the Pendleton Garden Nursery. Since at least 1782, this land had been used for plant and seed production. At that time, Giles Boardman, variously described as gardener, nurseryman, seedsman, dealer and chapman, had announced the enlargement of his Pendleton Green nursery to include walks, bowers and a pleasure ground. The venture did not go well, and in 1790 Boardman was declared bankrupt. In 1806 the nursery was owned by Turner and Smith, who had another in Dukinfield and a shop on Deansgate. By the 1830s a Welsh nurseryman, John Jones, and his family are running the nursery, and continue to do so until at least 1851. At that time the census tells us that he has 3.5 acres of land. John's wife, Nancy died in 1853, and when in 1854 the lease on the land was coming to an end, a clearance sale of the plants was held in December 1854 at the nearby Horse Shoe Inn on Broad Street. The original use of the land is referenced today in the names of Nursery Street, Arbour Close and Maple Close.

The House

It is not known the exact year that a house was built on the nursery land. Pendleton Green Nurseries notice of sale by auction in December 1854 Manchester Courier and Lancashire General Advertiser suggests that the house was built after 1855. The sale of the Pendleton estate in 1912 states that a chief rent is payable on Oakfield for 999 years from 1857, which is a good indication of build date. The 1858 Post Office Directory shows George Southam living at the house to the east of Belmont. Not yet named or numbered, by the 1861 census it is listed for the first time as No.1 Eccles Old Road. At the next census in 1871 the house is named Oakfield, and remains so for over 50 years.

Ordnance Survey maps can help with dating the development of the house. The 1888 shows Oakfield without an entrance porch and side bay window in a large plot of land. The 1905 survey indicates that the entrance porch has been added but not the bay. There is an additional building in the back garden. The 1915 map indicates that there had been little change to the house and surrounding land although building on Broad Street continued apace. By 1938 Oakfield was hemmed in by the Sutton Flats, built on the site of Ashfield, the former home for many years of Dr. Thomas Nathaniel Orchard before becoming the Salford West Labour Party base.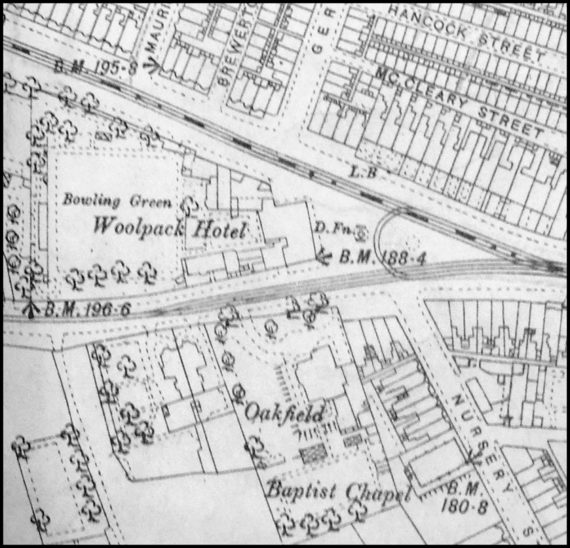 The 1912 Pendleton Estate sale documents describe Oakfield as,

'arising out of 4082 square yards of land, more or less, facing Eccles Old Road, Pendleton….a substantial detached residence of three floors and basement, approached by carriage drive and standing in its own terraced garden, with stable yard and brick building, glass houses etc.'

Photographs in Salford Local History Library show the house, probably in the 1950s, when it was Toc H XIV. A large detached brick house facing the Woolpack Inn, with plain square headed sash windows in a large plot, although most of the land is to the rear. It is possible that the ground floor bay window(west) and entrance porch (north) were later additions to the house. Nursery Street and a baptist chapel are to the east.
Medical men at Oakfield

George Southam 1816-1876: George Southam was the nephew of a surgeon,  John Justice Southam. His own father was a grocer and provisions dealer and, intriguingly, the official muzzler of mastiffs and bitches. He gave his son a good education, sending him to Manchester Grammar School. In the 1830s George studied medicine at the Royal School of Medicine in Pine Street, Manchester and then in  London and Edinburgh.

In 1841 Pigot and Slater's Trade Directory lists George Southam, Surgeon, living at No.7, The Crescent, Salford. In 1842 he married Rebekah, daughter of Elkanah Armitage. His younger sister Elizabeth, would later marry Rebekah's younger brother, Benjamin Armitage (1823-1899).

George appears to have moved between a number of Crescent properties over the next 10 years: he is at No.4 in 1847 (Slater's) and No.19 in 1851 (census). The 1858 Post Office Directory shows the Southam family, now with five children, living at the newly built house to the east of Belmont. Not yet named or numbered, by the 1861 census it is listed for the first time as No.1 Eccles Old Road. At the next census in 1871 the house is named Oakfield, and remains so for over 50 years.
George Southam served the people of Salford and Manchester for almost 40 years. In 1846 he was appointed House Surgeon and later Surgeon at the Salford Royal Hospital and Dispensary. In 1847 he was appointed dispensary surgeon to the Manchester Royal Infirmary. Four years later he led the establishment of the Chatham Street School of Medicine in Manchester (at the corner of Chatham St and Grosvenor Street). When the Pine Street and Chatham Street schools merged at Owens College, George Southam became joint professor of surgery and director of medical studies. He was a member of the Royal College of Surgeons from 1873 and president of the Council of the British Medical Association. An eminent and distinguished surgeon and academic, he published a wide range of papers, including those concerning the treatment of elephantiasis by amputation, of ovarian tumours, and on the nature and treatment of cancer.

George Southam died at Oakfield on 24 April 1876. He was buried at St. John's Pendlebury. The Southam medical dynasty continued when George's son Frederick Armitage Southam (1850-1927), who had lived most of his childhood at Oakfield, became a surgeon and was Professor of Surgery at Owens College, with consulting rooms in the prestigious St John's Street in Manchester. After his father's death, Frederick and his older brother George had continued to live at Oakfield. Frederick married in 1882 and in 1891 he is living with his young family in Withington. Frederick's son, Arthur Hughes Southam (1888-1970), also went on to become a surgeon.

In 1891, George Southam's eldest son George Armitage Southam, who had joined the Armitage's cotton spinning business, was still single and living at Oakfield and was by then a Manager and Director of the company. Two years later, at the age of 50, he had moved to Claremont Cottage at Irlams o'th' Height and married his first cousin, Mary Elizabeth Armitage of Chomlea.

Thomas Mason Johnson 1841-1916: Born in Yorkshire, Thomas Mason Johnson came to Salford to study medicine. We find him in 1861 at 243 Chapel Street, listed as a medical student, pupil to William Crosby MRCS. The 1867 Medical Register tells us that Thomas Mason Johnson was working at the Manchester Royal Infirmary. He had gained his MD at St. Andrews in 1862. That same year he obtained his License from the Society of Apothecaries (LSA). A year later he was admitted as a Member of the Royal College of Surgeons (MRCS). He was a medical officer for the Salford Union.

In 1874 Johnson married the daughter of a New York bank cashier, Julia de Angelis and they were living at 251 Chapel Street in 1881 and 1891. The couple had three children, the first being William Crosby Johnson (1875-1952), no doubt named in tribute to his father's mentor and partner. This son also went on to become a surgeon and lived at Fairleigh on Eccles Old Road, close to Hope Hall.

Practising as Messrs. Crosby and Johnson, Surgeons, at premises on The Crescent, there are numerous newspaper reports of their presence at incidents, accidents and inquests into local deaths.

We do not know exactly when Thomas Mason Johnson moved from Chapel Street to Oakfield. It may have been shortly after George Armitage Southam left around 1893. He is there at the 1901 census, aged 60, and remains there until retirement to Harrogate around 1914, where he died in 1916 at the age of 75. Thomas's son, William Crosby appears to have moved into Oakfield after his father's death but did not stay long, as the house was occupied by Dr Alfred Williams by 1917.
Alfred Williams -1935: A medical graduate of Glasgow University and member of the Pathological Society of Manchester, Williams was for a time in medical partnership with William Crosby Johnson. The partnership was dissolved in 1914. Williams was living at Oakfield, from around 1917 to 1922. He died in 1935.
Toc H Mark XIV
After the last of the doctors quitted Oakfield in 1922, the house appears to have stood empty for around one year. From 1923 for the next 40 years it was the base of the Salford branch of the Toc H organisation, an international charity dedicated to working for a better world through service, friendship and fair-mindedness.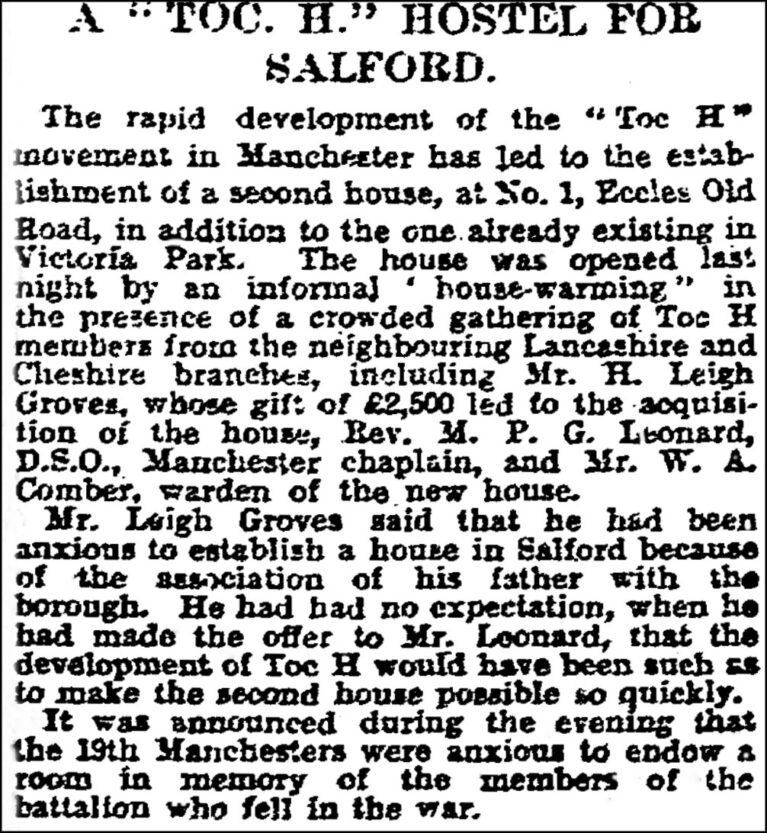 Toc H was founded in late 1915 by an army chaplain in Belgium. Phillip Byard (Tubby) Clayton was tasked with setting up a rest house for troops. Talbot House soon became known by the radio signallers' parlance TocH. The house had a library, a kitchen, a walled garden and eventually a chapel. It hosted debates and concerts and served as a messaging hub for soldiers passing through on their way to and from the battlefields.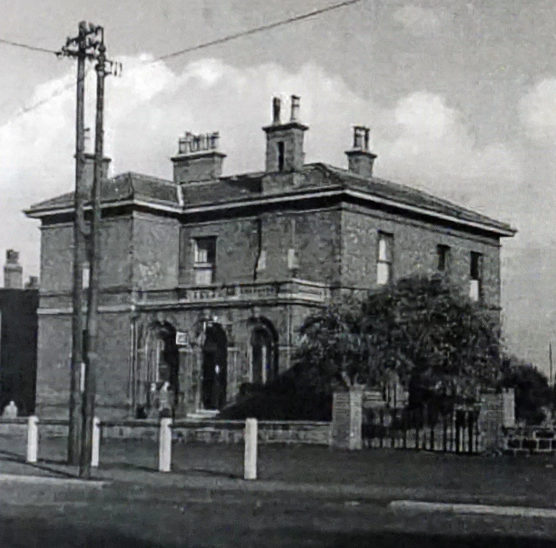 After the war, the desire to maintain the spirit of comradeship led Tubby Clayton and a group of veterans to establish the first house in London in 1919, known as Toc H Mark 1. It served as a hostel for men looking for work and needing a place to stay. In return, residents began carrying out community services. On their return home, local groups were established around the country. In 1926, Toc H Mark XIV was opened at 1, Eccles Old Road.

We do not have any census returns for the Toc H (1921 returns will be open in 2022). The 1939 Register recorded 10 persons resident on registration night. These included Hector S Horobin, Social Services Warden, Stanley L Davis, Clerk in Holy Orders , Leslie W Wood, Organising Secretary M/c Area Toc H Incorporated and John H Bradshaw, Houseman. The Housekeeper was Helen M Ashcroft. Five single young men were also in residence.