Maximillian Baerlein (1849-1917) was a businessman and partner in Baerlein & Company. From around 1872 he lived at the Limes on Eccles Old Road, then newly built. Max was the son of Emanuel Baerlein (1810-1885), from Furth, Bavaria, who had established a yarn merchants house in Manchester sometime around 1844. In 1841 Emanuel was lodging with John Hamson, also a merchant, in Polygon Avenue, Ardwick. By 1867 Emanuel Baerlein was operating in Furth, Bavaria and at the Chapel Street Mills, Salford as a commission agent.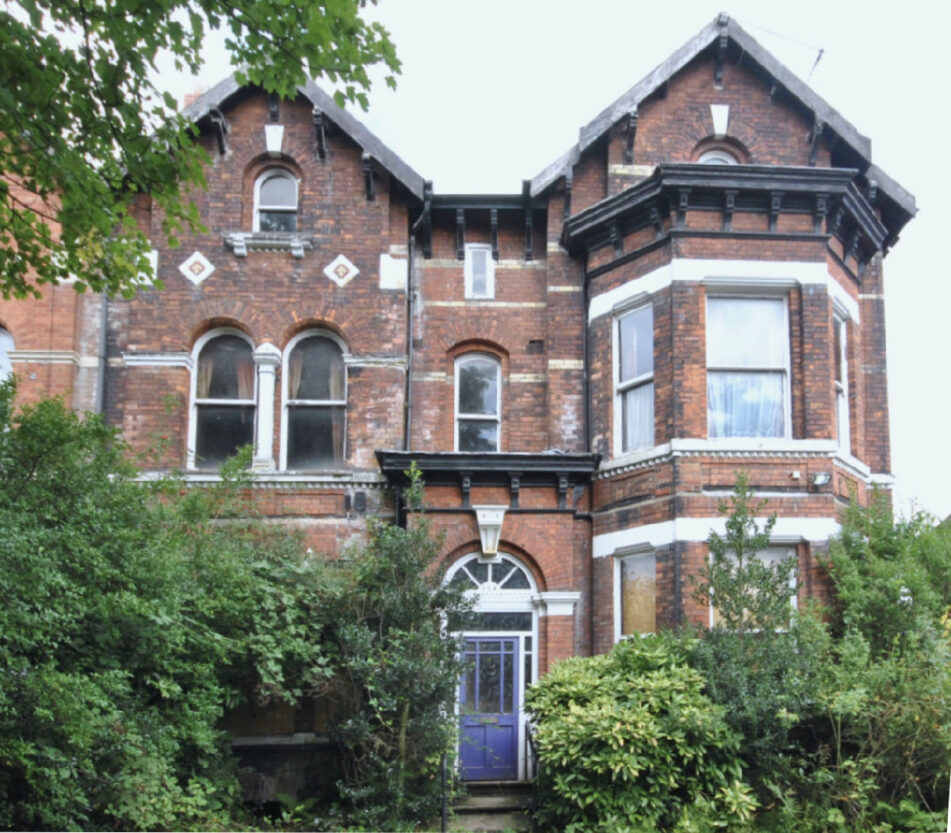 Emanuel's sons, Max, Otto and Sigismund followed their father to Manchester where they initially operated from 18 Exchange Street and Albert Square. Developing their business in Manchester and Salford the three brothers took advantage of the 1870 Naturalisation Act, becoming British citizens. Max's naturalisation papers were granted in 1875 indicating that he was resident in Britain from around 1870.
In 1876 Max Baerlein and Emily Cohen (1858-1929) were married at the Park Place Synagogue on Cheetham Hill Road in Manchester. Born in Rusholme, Emily was the daughter of Sigismund and Zara Cohen who lived at Beech House on the corner of Eccles Old Road and Weaste Lane in Pendleton. After their marriage Max and Emily made the Limes their first family home where their two sons, Harold Augustus Baerlein (1877-1958) and Edgar Maximillian Baerlein (1879-1971) were born. The brothers were to follow their father into the family firm.
Baerleins had diverse business interests as textile merchants, machine exporters, dealers in cotton and flax waste, shipping agents, converters, spinners and doublers. They were also machine designers and suppliers of spinning machinery and looms, continually diversifying their operations and developing a global business with many subsidiaries in this country and abroad. By 1876 they were regarded as one of the most prominent shipping houses in Europe. In 1879, in the wake of this success, they built a large purpose-built textile warehouse on Blackfriars Street in Salford. The opulent carved stone facade fronting an extensive warehouse, a proud statement of their developing wealth and business success, survives today and is a Grade II listed building. The building remained Baerlein's head office until 1954 when, after 110 years, the company went into voluntary liquidation.

The Baerlein Building In 1877 the Manchester Courier had advertised an auction at the Crown Hotel of land on Blackfriars and Chapel Streets belonging to Salford Corporation. The plot of 689 square yards extended to Booth Street. The land on Blackfriars Street was acquired by Baerleins in 1877 with permission from Salford Corporation to build a warehouse and offices within 3 years. Baerlein's architect of choice was Francis Haslam Oldham FRIBA (1844-1908) of 23 John Dalton Street, Manchester. Oldham was of some standing in the architectural profession in Manchester serving as president of the Manchester Architectural Association and Manchester Society of Architects. The elaborate architectural carving on the facade was by Evan Williams (b 1828). Thomas Richard and Evan Williams were successful stone carvers and masons in Manchester. Their work included the carving on the Reform Club and the structure surrounding the statue of Prince Albert in Albert Square. Oram and Hartley were appointed engineers and Neil and Sons contractors. The relocation of Baerlein's combined offices and warehouse to 10/12 Blackfriars Street was announced in the newspapers in September 1879. In June 1883, just four years after it was built, a thunderstorm struck the building causing a fire that destroyed the upper portion of the rear block and the roof to the front block. The damage was repaired and restored with insurance money in 1884.
From 1951 The Textile Institute shared the building with the Baerlein Company which continued to operate until 1954 when it suffered financial losses and was liquidated. The Textile Institute bought the freehold and building in 1955 and internal conversion for their needs was undertaken by Harry S Fairhurst and Son.
By 1974 the building's future was uncertain with demolition a consideration. Fortunately a decision to refurbish was taken and in 1976 the facade was cleaned, the entrance hall remodelled and open plan office accommodation provided. On 12 August 1976 the building was listed Grade II. https://historicengland.org.uk/listing/the-list/list-entry/1386082
In 1998 the Textile Institute put the building 'with potential residential opportunity' up for sale in the Estates Gazette, vacating the building in 1999 when they moved to St James Building, Oxford Street in central Manchester. The Baerlein building was sold for £575,000 and bought by Kerrington plc who applied for listed building consent for 25 flats with basement car parking. The Victorian furniture comprising desks, office and boardroom furniture and some of the fittings were auctioned on site by Capes Dunn during 1999. .
One year prior to the sale of the building in 1998 a building survey had concluded that the building was free from major structural defects but lacking in maintenance. The survey reveals details about the internal accommodation including the functional warehousing to the rear of the elaborate facade. The floors are pitch pine planks with timber beams supported on iron columns. There are several internal staircases and a stone spiral staircase at the rear which gives access to Booth Street. Much attention was paid to the equipment and services including teagle gearing and hoists and presses and book racks which were used to take the business ledgers to the fire proof strong rooms and basement. The heating was by open fires and steam pipes. A disused hydraulic lift installed c1900 of historical importance was of interest to the Science Museum. The building was duly converted into apartments and is now known as the Textile Apartments.
Edgar Maximilian Baerlein (1879-1971) Edgar was born whilst his parents Max and Emily were living at The Limes on Eccles Old Road. Educated at Eton and Cambridge, where he graduated with a degree in mechanical science in 1902, Edgar's application for associate membership of the Institute of Civil Engineers in 1908 reveals his early experiences in the textile industry. This included an apprenticeship at Asa Lees in Oldham, working in Baerlein's drawing office and modernising old spinning mills with new plant including the Gorton New Mills and the Egyptian Cotton Mills in Cairo. At John Lees mills at Uppermill, Oldham he procured and installed new plant and boilers and improved the mill building.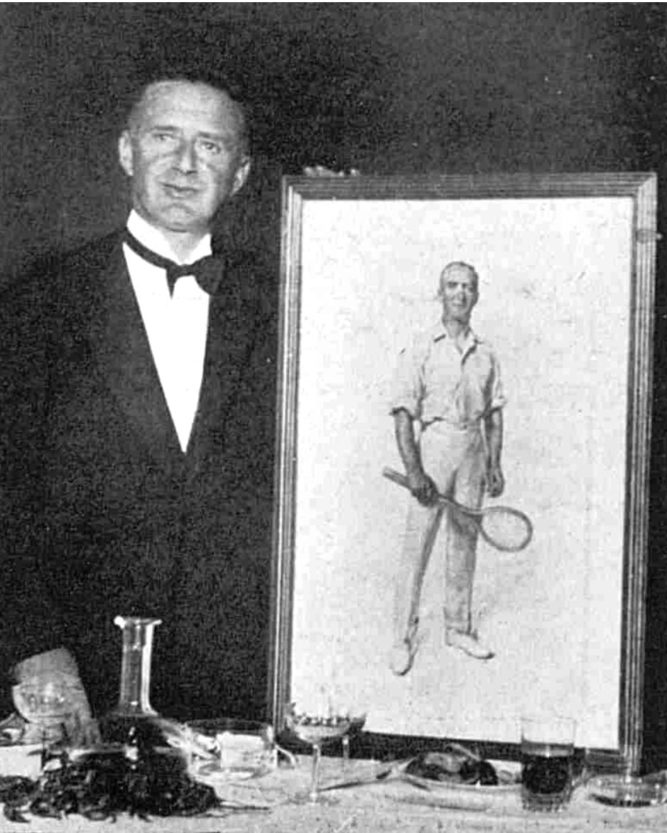 Edgar eventually became a director at Baerleins and continued to be involved with the company until it was wound up, but it is in the field of real tennis and rackets that he is best known. Taking up the sport in his youth he would have taken advantage of the nearby Manchester Racket Club on Blackfriars Road, Salford where he eventually became a trustee. Gaining his first real tennis crown in 1912 Edgar dominated the sport until 1930 winning the British Amateur rackets singles title a record nine times and the British Amateur real tennis singles title thirteen times. His number of singles titles remained the record until 1979. He stayed at the top of real tennis at doubles until 1937 when he won his eleventh British title. At the age of 51 In 1931 he won the first British Open singles title.
Edgar's son Richard Edgar Baerlein (1910-1995) carried on the family involvement in sport becoming a horse racing journalist and author of some significance.