Archibald Winterbottom (1815-1884) was a textile merchant and bookcloth (bookbinding cloth) manufacturer who lived at The Limes, Eccles Old Road from the mid 1870s until his death. An active and committed Unitarian, Winterbottom was born in Linthwaite near Huddersfield. The Winterbottom family later moved to Saddleworth where Archibald's father was both a farmer and woollen merchant. Aged 15, Archibald Winterbottom gained employment with Henry Bannerman and Sons, the Manchester textile company. Here Winterbottom built a successful career, becoming a partner in 1844 with responsibility for the Bradford and Silesia departments. Bannerman dealt in a wide variety of textiles and Winterbottom would have gained a grounding in the textile industry in all its forms, including their bookcloth products which had won a medal at the Great Exhibition in 1851. Winterbottom left Bannerman in 1853 setting up on his own account at Lime Street, Ancoats, Manchester. He continued to style himself as a Bradford merchant on census returns but it was in the field of bookcloth production that his company would become a world-wide brand, dominating global production with factories in Britain, Europe and the USA. Thirty-eight years after establishing his company the Winterbottom Book Cloth Company had absorbed the majority of its competitors.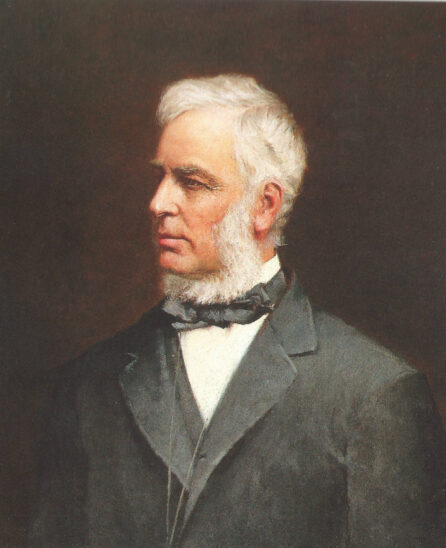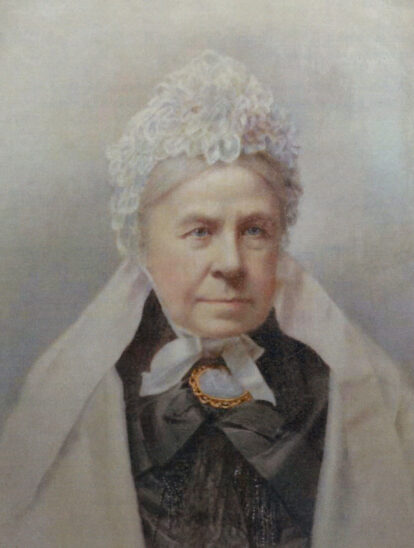 Archibald Winterbottom had prospered in the 1850s and 1860s as an independent merchant, dealing in both woven and printed textiles (stuffs) which he traded from his Mosley Street warehouse. Awarded a medal for his bookcloths at the 1862 International Exhibition in London Winterbottom suffered a setback in 1869 when his textile company ran into financial difficulties. Archibald Winterbottom appealed to his Bradford creditors and was able to secure an agreement which protected him from bankruptcy proceedings. The episode was recorded in local and national newspapers at the time, as was the final debt payment in 1883.
FAILURE OF MR. ARCHIBALD WINTERBOTTOM STUFF MERCHANT, MANCHESTER. Mr. Winterbottom, stuff merchant, Manchester, has, we regret to learn, been compelled—through the depression of trade–to call a meeting of his creditors. The following copy of the circular issued yesterday:— 29, Mosley Street. Manchester, Jan. 19, 1869.

Gentlemen, —I deeply regret to inform you that owing to the depression of trade I am unable to fulfil my obligations, and am reluctantly compelled to stop payment. I have placed my affairs in the hands of Messrs. Sale, Shipman, Seddin, and Sale, solicitors of this city, who have instructed Messrs. Broome, Murray, and Co., accountants, to take stock and lay a statement of my affairs before creditors, who will be called together without delay. I am, Gentlemen, Your obedient servant, Archibald Winterbottom.

Mr. Winterbottom has been in the trade for a number of years. He learned the business in Bannerman's house, which he left with an excellent business reputation, to commence on his own account. Since doing he has always been in excellent credit, and the belief was general that he had done and was still doing large and profitable trade. His liabilities we are informed exceed £50,000; what the assets are cannot be known till the meeting of creditors is held. Half of the liabilities at least will, it is supposed, fall upon our Bradford houses, who it is gratifying to know are in position bear their losses. Bradford Daily Telegraph – Thursday 21 January 1869
Winterbottom took stock and switched his focus from general textiles to bookcloth manufacturer. By 1874 his bookcloth business was prospering so much that it was in need of larger premises. The Victoria Mill on Weaste Lane in Salford, recently vacated by Ermen and Engels, presented an ideal opportunity and coincided with Winterbottom finding a family home on nearby Eccles Old Road. The Limes, a large double fronted semi-detached house built in the early 1870s, provided a modern residence of 9 bedrooms, several reception rooms and servant accommodation within a mile of the factory. The Victoria Mill was to remain the manufacturing base for the company until 1980 when bookcloth manufacturing ceased.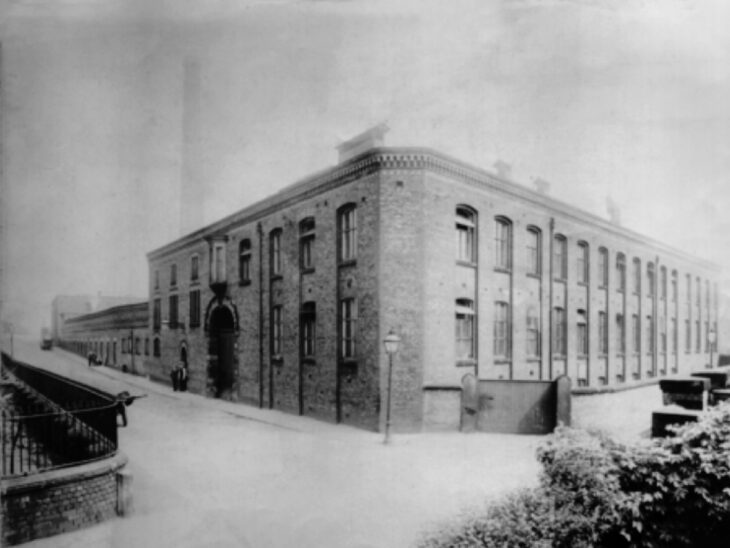 By 1879 Archibald's two sons, William Dickson and George Harold had joined him in the business. The 1881 census shows them living at The Limes ages 20 and 19 years of age with their parents, sister Helen and four servants. The two sons appear to be running the bookcloth business with 137 men, ten women and 36 boys in their employment. Archibald Winterbottom died suddenly in 1884 and was interred at Stand Unitarian Chapel, Whitefield alongside his eldest son Archibald. After making provision for his wife, his will directed his trustees to sell his assets. William and Harold took the opportunity to buy their father's bookcloth business:
The executors and trustees of the will of the late Mr. Archibald Winterbottom, of Manchester, manufacturer, have sold and transferred to William Dickson Winterbottom and George Harold Winterbottom, of 12, Newton-street, the business of manufacturers and merchants formerly carried on by Mr. Archibald Winterbottom, and since his death by the executors, under the style of the Executors of the late Archibald Winterbottom, at the Victoria Mills Weaste; at 1, Paternoster Buildings, Paternoster-row, London; and at 12, Newton-street, Manchester; and also at Weaste under the style of the Victoria Mill Company; and the business will henceforth be carried on by William Dickson Winterbottom and George Harold Winterbottom under the style Archibald Winterbottom and Sons. Manchester Courier and Lancashire General Advertiser – Tuesday 30 August 1887
Winterbottom's success depended on two products: bookcloth used for covering books, ledgers, slip cases, etc and tracing cloth used primarily by architects and engineers for drawings and plans. Both products used cotton fabric as the base, produced on Lancashire looms at Winterbottom's factory in Dukinfield from yarn spun at Monton Green. Bookcloth was coloured using dyes produced at their Samuel Dewhurst factory in Salford.
Bookcloth: Starch filled bookbinding cloth had been introduced in the 1820s. A substitute for expensive leather bindings, woven cotton was bleached, 'filled' ie coated with starch, dyed and finally calendered to create a smooth finish. Bookcloth manufacture runs parallel with advances in printing, increased book publishing, literacy and technical developments in the textile industry.
Tracing cloth, used by architects and surveyors for plans and elevations, was produced in a similar manner to bookcloth but demanded an extra smooth, fine surface to prevent bleeding of line drawings and water colour washes. Tracing cloth, recognised by its bluish tinge, was massively important financially for Winterbottom and remained in use until eclipsed by polyester films.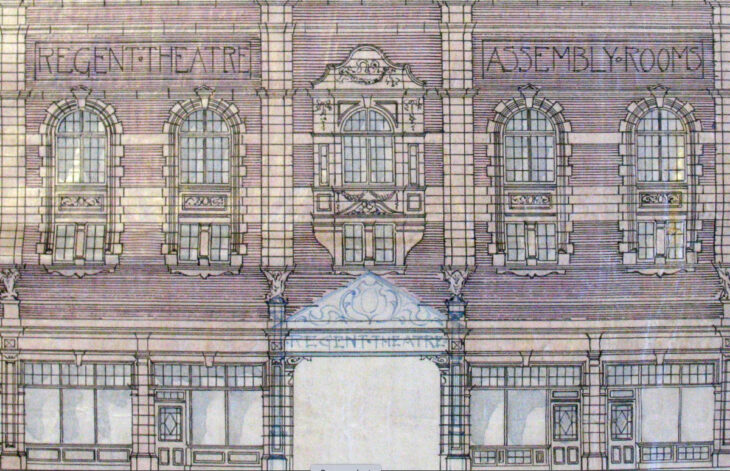 It was William Dickson Winterbottom and his brother George Harold who were to build the business empire that was eventually know as the Winterbottom Book Cloth Company. A turning point in 1891, when the Winterbottoms become a limited company, secured additional investment through share allocation and amalgamation with several manufacturers in this country, the USA and Germany. The Winterbottom brothers became incredibly wealthy as a result. Both were able to buy large country estates and leave considerable personal fortunes in excess of £1 million.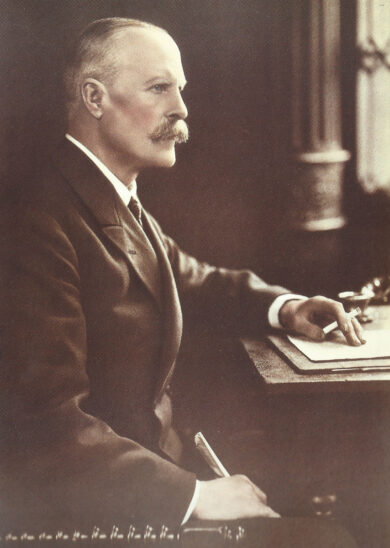 It has been challenging to research the history of Winterbottom's manufacturing activities as the company protected their processes and techniques with great secrecy. Whilst there are business archives detailing the many takeovers and acquisitions there are few details of the day to day running of the business. A single publication by Bill Tomlinson, a Winterbottom employee, gives an insight into the workings of the company in his book Bookcloth 1823-1980, (1996) co-authored by Richard Masters. Tomlinson describes that the various departments at Weaste were separated by iron doors and only works directors could move freely about the factory, a strategy designed to protect trade secrets and manufacturing processes. Neither were those who worked at the sales office, 12 Newton Street, Manchester, allowed to enter the factories and the sample cards they produced were required to be returned by customers before new ones could be distributed. So, despite the millions of rolls of bookcloth and tracing cloth produced, there appears to be just a handful of sample cards in existence. Consequently Tomlinson's book, supplemented by a few newspaper articles, is the only publication to shed light on the Winterbottom Book Cloth Company. However, Tomlinson does confirm that workers were known to be highly trained and relatively well-paid in comparison to those in similar occupations and there appears to have been a culture of loyalty amongst workers and managers. Tomlinson also records that Winterbottom's success was the result of impressive quality control, assiduous efficiency in following up customers, continued modernising of machinery and processes and legal protection through patent law. Victoria Mills in Salford was to become the flagship, held up to other Winterbottom factories for excellence in quality and efficiency. In 1900 a USA government report noted that the Winterbottom Book Cloth Company exported to 50 countries and that the Victoria Mills at Weaste were responsible for 25% of the company output.
Winterbottom Book Cloth Company continued to go from strength to strength during the early decades of the twentieth century remaining profitable throughout economic downturns and the First World War. In 1920 a factory was acquired in Italy and in 1924 their German factory, requisitioned during the war, was returned to the company. By 1945, however, a long period of gradual decline set in affected by issues including rationing of cotton cloth and the advent of paperback books, although the company continually recorded increases in share price. In 1961, the company, still profitable, largely because of subsidiaries, was taken over by Venesta. In 1980 bookcloth production ceased at Victoria Mills after 106 years.
Richard Lukey provides the following account about his great grandmother Rosa Ann Machin and her relationship with the Winterbottom family. Rosa Ann Machin was born in rural Lincolnshire and at 15 years of age embarked on a career in service that was to last for over 50 years. Her life became heavily entwined in the fortunes of the Winterbottom family from Pendleton who were one of Britain's wealthiest industrial dynasties at the time.
William Dickson Winterbottom (1858-1924) was one of two sons of the founder of the business that became The Winterbottom Book Cloth Company. He married Clara Craven Fletcher on 26th June 1884 at St. James' Church in Pendleton. Clara lived at Beaucliffe, the Winterbottom family at The Limes which is now 210, Eccles Old Road and after their marriage they set up home together at Hopefield, Fairhope Avenue also in Pendleton. Rosa joined the Winterbottom's domestic staff at about the time of their marriage and worked for the family in various guises until William died in 1924.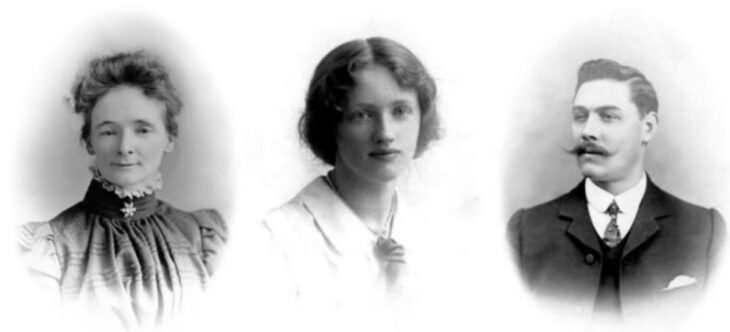 But in that time Rosa had a daughter called Ivy and the identity of the father was shrouded in mystery as Ivy, who died in 1975, never talked about him. Her family had little information other than two family names, one of which was Winterbottom.
In 2014 two briefcases were discovered by Ivy's family with a handwritten journal, postcards and photos belonging to both Rosa and Ivy. Using this treasure trove of information and an internet search which put the two family names and Rosa in the same place at the time Ivy was born, a remarkable story emerged. Rosa's was a life where the boundaries between 'upstairs' and 'downstairs' sometimes became blurred, living under the same roof as anyone was the way to know them best and the consequences of the pursuit of happiness could last a lifetime – for all concerned.
Rosa's journal contains seventy-six handwritten pages and one printed insert. From the front of the journal working forward are a number of poems and pieces of prose. From the back of the journal working backwards are recipes and cures for common ailments. But crucially the pages tell a story about life in very different times when people's expectations were different and with only the workhouse as an option if you found yourself destitute, you often had to swallow your pride and just get on with life regardless.
This is the story of Rosa Ann Machin and the Winterbottom family of Pendleton.  https://sway.office.com/ROkYO0sRkvMHrb4r?ref=Link&loc=play ?
The authors are grateful to Richard Lukey, Toby Horton and Susan Dorey for their help in compiling this page.