For almost 200 years there was a school on part of the site of the present Salford Royal Hospital. The building that many Salford residents may remember was erected in 1845, but that replaced at least one earlier school.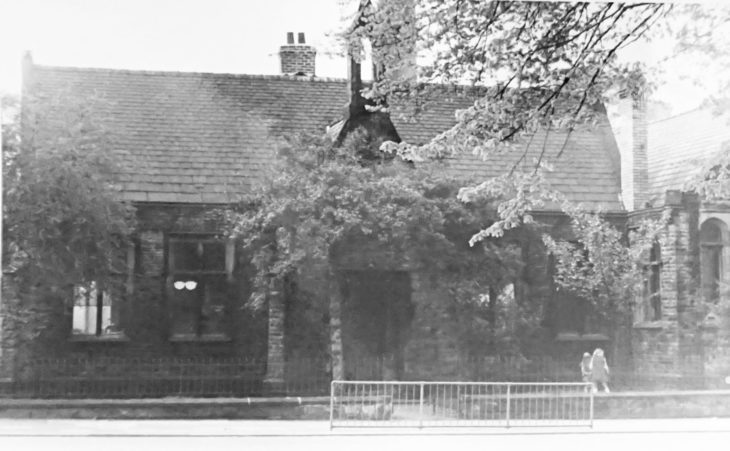 When the Victorian-built school celebrated its centenary in 1945, the Salford City Reporter featured a brief history, based on work by local historian, councillor and JP, Charles P. Hampson. Hampson tells us that the original school was founded in 1789 in premises off Stott Lane approached by a 200 yard cul de sac from Eccles Old Road. There was a schoolmaster's house nearby. It was founded by Thomas Butterworth Bayley of Hope Hall, 'for the boys and girls of the hamlet of Hope'. Around 30-40 children attended learning the three Rs and religious education in the Church of England denomination. Girls were also taught needlework. A small fee was payable but an endowment from a Mrs. Ann Openshaw funded five girls and five boys. When St James Church, Hope was opened in 1861, the school became the parish National School, with close links to the church and an emphasis on religious education.

It is possible that the first school was established at least five years earlier than Hampson believed. An advertisement in the Manchester Mercury in October 1783 was seeking to appoint a teacher: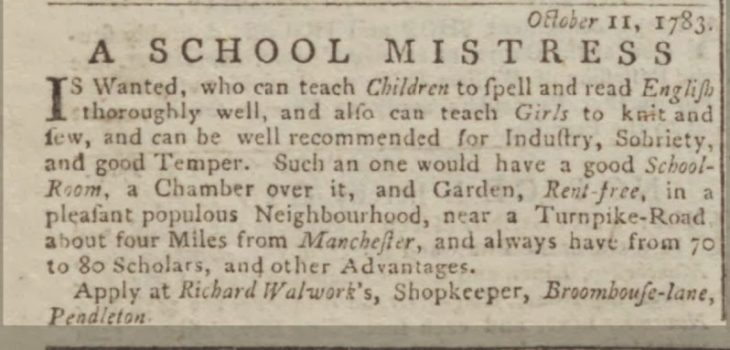 An Ordnance Survey map, published in 1848 but surveyed in 1845, before the new school was erected, shows the position of the earlier, smaller structure set back from the road. This was almost certainly Bayley's school, and we know that the 1789 building was replaced in 1845 by the stone built school that existed, with additions and alterations, for the next 127 years.

The next map, surveyed around 1888, shows the later school, directly fronting Eccles Old Road and moved further west, so that it is adjacent to York Terrace, then a row of four houses, currently shops between the hospital and Park Place.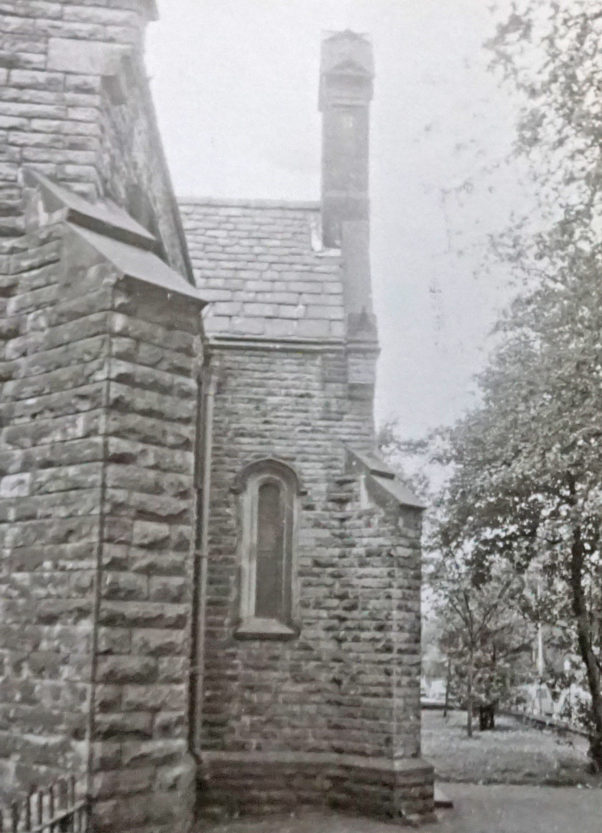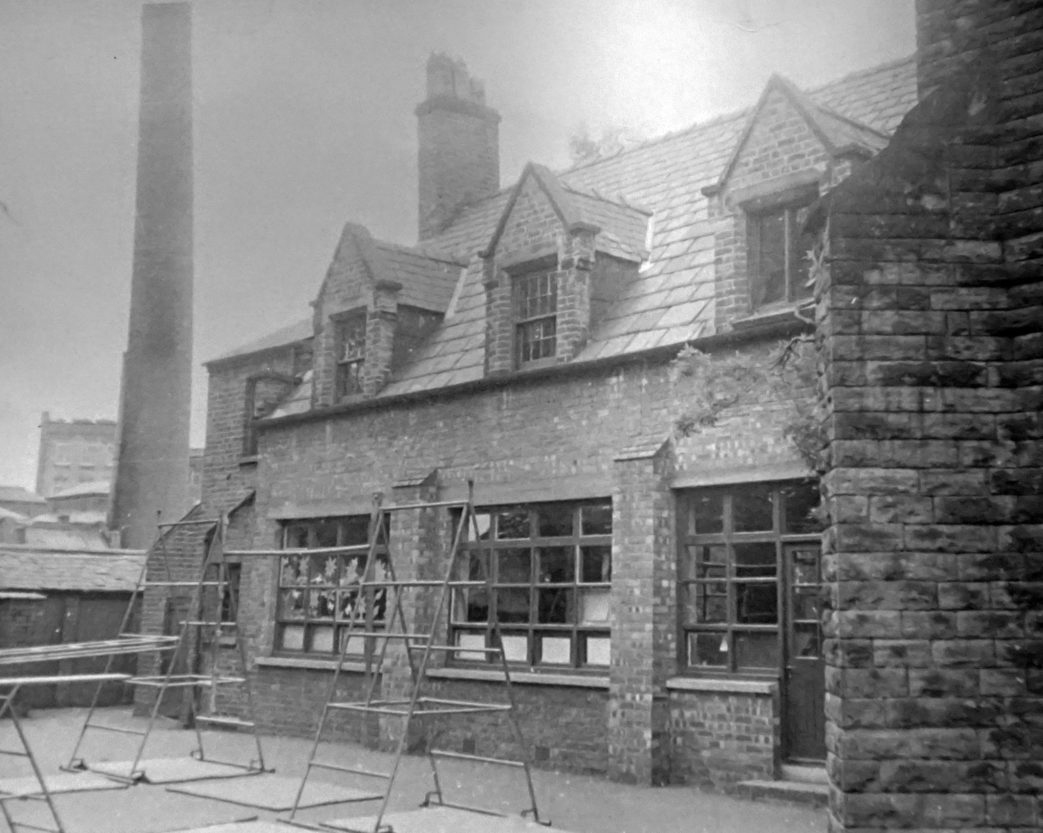 Building Control plans held in Salford Archives show alterations to the 1845 school, with additions and enlargements in 1885 and 1899.

Catchment area The school admissions registers show the extent of the area which it served. The registers for 1898-1919 and for 1936-72 are held in Salford Local History Library. These show that from April 1898 for around eight years, all the children admitted lived within a mile of the school, and most lived much closer. During 1899, new admissions came from six of the 18 houses on Park Place, immediately behind the school, and a further six from houses on Eccles Old Road within a couple of hundred yards of the school.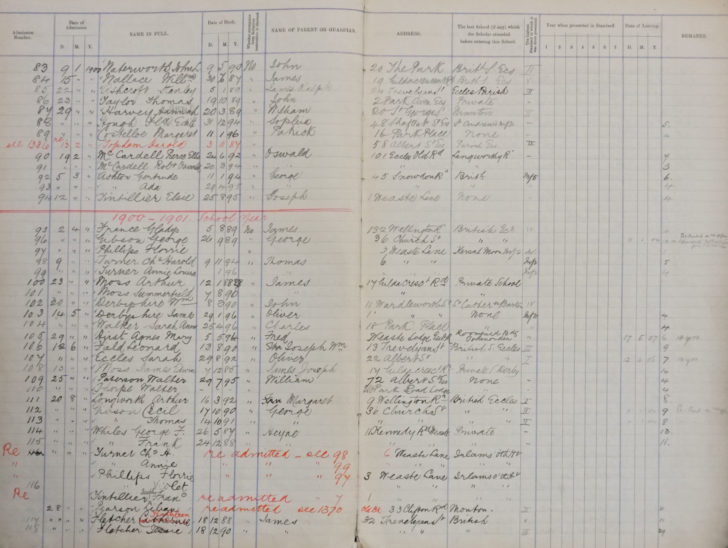 One group entry from 1907 was not typical. This recorded the admissions of six children whose address was Oak House Orphanage. There were two sets of siblings – Clarence and Ernest Bell and Harold and Charles Howarth. The others were 12 year old Gordon Smith and 10 year old Mary Simister. The location of the orphanage is not known, but at least three of the children appear to have been born in Manchester. The Howarth brothers must have had a difficult childhood, with Harold in 1911 living in St Nicholls Hospital for the Maintenance and Instruction of the Sons of Poor Parents in Ardwick, while Charles age 14, was boarding and working as an Iron Miller. By 1939 the brothers are again living together in Manchester with Charles's wife and family.

Mary Simister is found in 1911 in St Gertrude's Convent in Whalley Range. The Bell brothers fared better, returning within four years to live with their widowed mother and four siblings in Weaste. Gordon Smith's fate is unknown.
School log-books From 1863, all National Schools receiving any grant aid were required to keep:

'a diary or log book, which must be stoutly bound and contain not less than 500 ruled pages…The principal teacher must daily make in the log-book the briefest entry which will suffice to specify either ordinary progress, or whatever other fact concerning the school or its teachers, such as the dates of withdrawals, commencements of duty, cautions, illness &c., may be referred to at a future time, or may otherwise deserve to be recorded.'

The complete set of log-books for the school from 1863 to 1972 are kept in the Salford Archives. They offer a fascinating window onto the Broomhouse Lane community during a century which saw school fees abolished, and an increasing emphasis on teacher training and raising educational standards.

Masters, mistresses and teaching staff We do not know if a schoolmistress was appointed following Richard Walwork's advertisement in 1783. There does not appear to be a schoolhouse or teacher listed on the 1841 census, although the original school must have been in operation at that time. Many of the 1851 census returns were badly damaged by water and are not legible. The first named School Master we know of was William Henry Davis. He was principal of the school from around 1852 until his death in 1869. Born in Lewisham, he had previously been schoolmaster at Headingley in Leeds.

At the start of the first log-book entry of 2 February 1863 we are told that William H. Davis, was assisted by his wife, Mrs Davis. He also had an Assistant Master, Nathan Gray and two paid 'monitors', Miss Mary Kirk and Miss Jane Blackley. There were 72 boys and 58 girls on the register. This increased the following year to 135, the school having admitted, 'as many fresh scholars as could be conveniently taken'.

Mr Davis's use of the log-book shows his fascination with the weather, each entry starting with a daily report, recording the temperature and wind direction. 2nd February 1863, 'Wind SW, Thermometer 57 (Fahrenheit), Weather dull, heavy and damp'. He regularly commented on the general health and appearance of the children, who on 12th February were 'very lively and seem anxious to be out at their marbles.'

It appears that paid teaching staff were often supplemented by members of local wealthy families who gave their time voluntarily. As early as 1852 the Manchester Courier and General Lancashire Advertiser reported on a presentation of testimonials given by the children of Broomhouse Lane School to teachers Mr T.H.Birley and his sisters, Miss Birley and Miss M.T. Birley. Branches of the Birley family lived at a number of houses in the Eccles Old Road and Bolton Road area, including Broom House, Summerville, Birchmount and in Sandy Lane.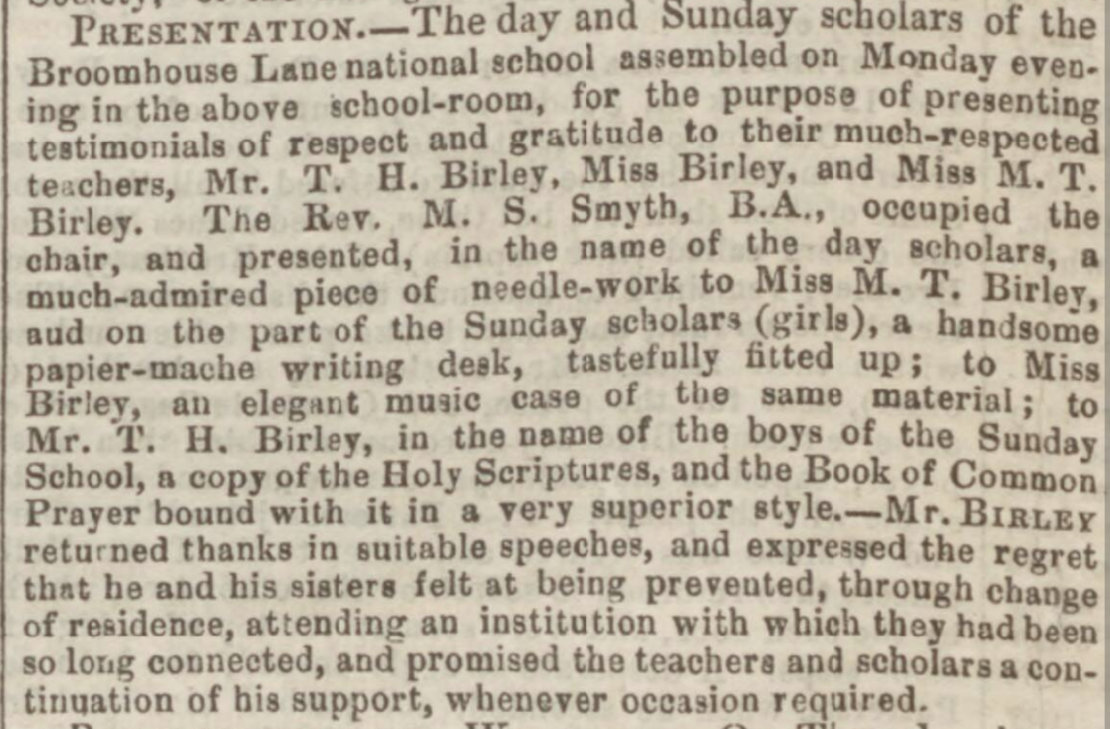 On February 5th 1863, Miss Kate Harter, daughter of William Harter of Hope Hall, 'assisted in the needlework for a short time in the afternoon'. Mrs, Sayers, wife of the Rev. Henry Sayers of St James's, also assisted with the sewing.

Mr Davis had a succession of assistant teachers, and may not have been an easy man to work for. Nathan Gray, who was in post as Assistant Master in October 1863, had been replaced a year later by Joshua Andrews. In October 1866, James Henry Bishop is Assistant, but by February 1867 Peter Lightfoot had taken the post. He appears to have been no more acceptable than his predecessors, as on 27th January 1868, Mr Davis records that he has, 'Engaged Miss Hibbert from St Mark's School Dukinfield, as an assistant until I can get suited with a male assistant.' Poor Miss Hibbert lasted but a few days, and we read that on 31st 'Miss Hibbert is not competent and is consequently paid off this day". Her replacement, Thomas Hamnett, took up post on February 10th on a month's probation, which he survived, only to resign in June after being reprimanded for missing the 'annual treat', on Whit Thursday.
Mr Davis's health was suffering and in mid 1868 he had taken a month off, 'for a change of air'. But in October, an inspection report from Arthur H. Heywood, of the school's management board, was critical of the 'unequal attainment'. Whilst commending religious education, he felt that,

'Great attention ought to be bestowed upon the writing and spelling throughout the school….The number of passes is insufficient to enable their lordships to make any additional payment….'

No reference is made in the log-book to Mr Davis's departure, but we can see that on 11th January 1869, school re-opens with a new Headmaster, Mr David Davies from Flintshire, whose wife, Ada Mary, is Sewing Mistress. Only 94 children attended.

The new head was not impressed with what he had inherited. On his second day in post, he recorded,

'Children very disorderly – introduced a little drilling. Found a few boys in the 1st class advanced in arithmetic and able to read fluently, but without expression. Writing and spelling unsatisfactory throughout the school.'

The entry for 17th January 1869 recorded the death of the late School Master, William H. Davis, and on 20th January he was buried at Barton Churchyard (St Catherine's). All the scholars attended.

David Davies served as principal school master for over 20 years. In 1881 his 16 year old daughter, Ada Mary was a pupil teacher, and younger daughter Ellen also went on to train as a teacher. David Davies's sudden death at the age of 52 on 20th May 1890 led to the school being closed for the week.

On 2nd June 1890 a new School Master, John Morgan, took charge. Originally from Worcestershire, he had previously run schools in Ludlow and Barrow in Furness. On the 1891 census, John and his wife Rebecca were providing a home for her niece, Mary Caroline M Hally. In 1892 Miss Hally, who was then 13, is listed a pupil teacher. She clearly progressed well as in June 1900, the log-book tells us that, 'Miss Hally, formerly pupil-teacher in this school, now Head-Mistress of Little Lever Infants School, assisted with 2nd & 3rd classes…'.

John Morgan's career as head may not have been going so smoothly. The log-book entry for 2 November 1903 announced that, 'J. William Mather this day has taken up duties of Head Master of this School.' Five months later, the inspector's annual report stated,

'In the early part of the school year the school was found in bad condition. Under the new Headmaster an improvement is noticeable and much further improvement will be expected. The children are of good class and intelligent and it is desirable to provide a more liberal curriculum as soon as possible to enable those who wish to proceed to a higher grade or a secondary school to do so with the greatest possible advantage.'
John Morgan may not have had the qualities and vision required by a more progressive school management board, but the Salford Poor Law Guardians still managed to find a role for him. In 1911 we find John and his wife employed as Superintendent and Matron of the Culcheth Cottage homes, responsible for 36 staff and over 300 children.
The Culcheth Cottage Homes had been opened in 1903 near Warrington by the Salford Guardians. The 13 'cottage homes' each accommodated around 14 pauper children, and the site included a school, swimming bath, workshop, hospital and administration block. On leaving the school at 14 years of age, children were then trained in the industrial workshops and farm, which made the 'colony' self-sufficient. Designed by Salford architect Henry Lord, the homes were closed in 1936 and are now residential properties.
J. William Mather was Head at Broomhouse Lane School for less than two and a half years and was succeeded in February 1906 by J. Harry Proffitt, 37, from Rochdale. Mrs Proffitt took over the sewing class. School numbers gradually increased and by April 1911 there were 160 children on the books. Harry Proffitt appears to have remained at Broomhouse Lane until August 1913, when William Charles Francis, BA was appointed. He was supported by four members of teaching staff, one supply teacher and two pupil teachers (who would have been sent from their training centre on teaching practice)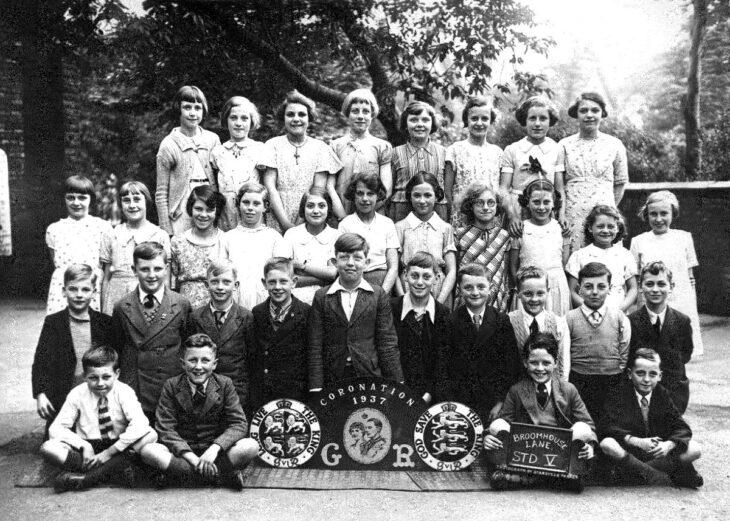 By December 1927, Broomhouse Lane School was being led by a woman and this continued to be the case for the next 20 years. Lucy Elizabeth Westwood, the first Headmistress, was the youngest of three sisters from Walkden who all became teachers. She had been at the school since 1911. Retiring in October 1947 at the age of 60, she died in 1964. Her successor, Mrs Richardson, was also a long-serving teacher, having been at the school over 30 years when she retired in 1951.
Hilda Jackson was appointed Head on 1 September 1951 and she was succeeded in early 1967 by D.H.Durham. By this time, the long-term future of the school must have been in doubt. Mr Durham resigned in July 1970 to take up a headship in Shropshire. J.R.A.Jones, former head of the recently closed St Bartholomew's school took up the post, but resigned a year later for a headship in Farnworth. Mrs D.O'Brien then served as acting head until closure in July 1972. year.
Poverty School attendance for 5 to 10 year olds was not compulsory until 1880 and for most families, involved a payment. The pressures on the low-income households which made up the Broomhouse Lane community are clear from early log-book entries:
February 5th 1863, 'Ruth Chappell wanted at home to assist her parents, and has left school in consequence.'
February 16th 1863 'Gilbert Hay wanted at home to nurse for a short time.'
April 6, 1863 'John Evans left to work in the brickfield'.
August 4th 1865 'Two scholars have been sent away because their parents will not pay the school fees, and two others have left on the score of health.'
June 27th 1867 'The attendance has not been so good this week in consequence of it being haytime.'
July 25th 1870, 'Mr Pearson, Railway Bridge, took his three daughters from school because he was asked to pay the higher rate, (10s 6d) per quarter for one of them.'
The Royle family, who lived on Park Place and had two children at the school, supplemented their income from 12 September 1870 when 'Hannah Royle (aged 16) undertakes the cleaning of the school from this day.'
Salford Education Committee abolished school fees at Broomhouse Lane School in April 1905.
Sickness The log-books also show how infectious diseases spread rapidly with serious consequences for the small school community:
June 17th 1864 'Mary Ann Lowe died of Scarlet Fever and was buried in the early part of the week.' Mary Ann was 7 years old and is buried at St Mary's, Eccles.
February 13th 1865 'Edward Girdler died of scarlet fever.' Edward was 8 years old, living at Hope Cottage adjacent to Hope Hall.
February 14th 1865 'Fredk. Hulland died of scarlet fever.' Frederick was 6 years old, the son of a butler. He was buried at Barton Wesleyan Methodist Church on Barton Road.
December 16th 1867 'Ernest Fallows died on Friday evening last. He was at school on the Thursday morning.' Ernest was 6 years old.
January 17th, 1868 'A good deal of sickness prevails in the neighbourhood. Emma Wright died this week after a very short illness.' Emma was 7 years old and is buried at St Mary's, Eccles .
May 8th, 1868 'The Scarlet-Fever has made its appearance again in Eccles, and one or two scholars are away in consequence.'
May 5th, 1869 'Several fresh cases of measles amongst the scholars….John Ashcroft died yesterday morning.' John was 6 years old and is buried at St Mary's, Eccles.
February 8th 1878 'Outbreak of typhoid fever at Hope Cottages. Richard Ashcroft died of that disease Feb.13th'. Richard was 8 years old and is buried in St Mary's, Eccles along with his aunt Emma Lomax, 29 who died the same day and his uncle Robert who died the following day.
February 18th 1901 'Doctor's Orders. 9.00 am School closed by order of Dr Tattersall Medical Officer of Health for Salford – school to be disinfected and remain closed for 3 weeks – owing to the large number of children absent through measles.'
November 5th 1918 'Owing to the Epidemic of Influenza the school was closed at the end of the afternoon.' It was not to reopen until January 6th 1919.
January 19th 1933 'Orders received from Education Office to close school at 4.30pm owing to Influenza Epidemic.' It did not re-open for two weeks.
9th February 1934 'Whole school closed because of measles epidemic.' When it re-opened almost a month later there were 'still children absent'.
Discipline and punishment An early emphasis on maintaining discipline at the school is documented in the log-books. William H. Davis's uncompromising approach extended to parents as well as pupils and teachers. In March 1864 he tells us that he requested James and William Ward's parents, '
not to send them again, on account of their bad conduct, consequently their names have been struck off the books.'
Again, in December 1866 he writes in the log-book,
'From the rude note received from Mr Riding on Friday evening, I have refused to continue his daughter Isabella's name on the school books. Maria Roscow has left in consequence.'
Another pupil was removed from school in June 1868 when,
'Albert Crosby left; his father is much displeased and was insolent because enquiries were made to him respecting Albert's want of punctuality and regular attendance at school.'
After W.H. Davis's departure, the log-book does not regularly record punishments or exclusions. Parents apparently continued to question the school's disciplinary code. On August 24th 1870,
'Mr Roberts, Hope Hall Lodge, called at school in a complaining mood to ascertain the cause of his daughter's punishment yesterday.'
It is clear that a strong emphasis on discipline was maintained by the succeeding headmasters and mistresses. An Inspection Report of 1922 conceded that,
'although there is no man on the teaching staff, the discipline is quite sound'.

The school records in Salford Archives include one Punishment Book for the years 1957 to the school's closure in 1972. This is during the headships of Hilda Jackson and D.H. Durham. The book records 'Nature of Offence', 'Nature and Amount of punishment' and 'By whom punishment inflicted'. Corporal punishment could only be administered by the head, although this could be delegated if the head initialled the punishment book. During 1957 and 1958, fewer than 10 children received corporal punishment. 'Deliberate disobedience' and 'repeated inattention' were very likely attract one stroke of the cane, while a young boy from Standard 1 was given two strokes for 'deliberately throwing another boy's new cap out of the cloakroom into the slush in the yard.'  Girls were not often caned, but it did occur. In 1961 a boy was given two strokes for, 'passing note to girls', and the two recipients of these messages were each given one stroke for 'replying to above.'
Canings increased during the early 1960s, averaging around 10 a year, but this declined throughout the decade and the last boy to be caned at Broomhouse Lane School received his punishment in July 1970.
From Treats to Prizes and Scholarships The early log-books show the occasions when school was closed for a 'treat' or to celebrate the marriage of a royal or a local benefactor. On March 10th 1863 there was a 'School holiday given for marriage of Albert Edward Prince of Wales.'
During the last half of the 19th century there appears to have been a close association between the school and some of its landed neighbours. Trips to their estates were regular events. The Harters of Hope Hall and the Reiss family of Broom House, were particularly involved in school life. On May 28th 1863, we read that,
'About 80 of the children under 12 years of age went to Broom House to play in a field and to have tea – weather dull and damp'.
On January 13th 1864,
'No schooling today, Mrs Leopold Reiss and Mr. and Mrs. Emil Reiss gave all the day scholars a school-treat as has been their custom for some years past.'

The following year, the Reisses combined their now traditional January event with prizes. On January 4th 1865,
'Children's Treat given by Mrs Leopold Reiss and the prizes, 16 in number, given for attainment in learning and good behaviour, by Mr. and Mrs. Emil Reiss.'
In June 1865,
'Children under 12 years went to Broom House to have buns and milk and played in a field'.
The treat in 1866 again included prizes and, 'Mr F. Reiss exhibited a magic lantern.'
February 1st 1865 was a holiday thanks to its Hope Hall neighbours,
'Holiday in honour of Mr.W.J.Harter's marriage. The scholars had roast beef in the school, and were afterwards entertained with the performances of a conjurer. Mr Harter also gave a new English Ensign for the use of the school..'
The Broomhouse Lane children must have been happy to be surrounded by large wealthy families with so many children of marriageable age. On April 27th 1865,
'School closed today, it being Mr Edward Reiss' wedding day. The day and Sunday scholars, about 170 in all, went to Broom House to dinner in the field.'
On May 22nd 1867 we read that scholars,
'were invited to subscribe towards purchasing a testimonial to Miss Elizabeth Harter, who is about to be married.'
We don't know how the parents felt about being asked to contribute to this wedding gift, but the children would no doubt have enjoyed their day off school on June 5th:
'Holiday in honour of Miss Elizabeth Harter's wedding day. The day and Sunday scholars assembled in the school in the afternoon and partook of the good thing (Roast Beef etc) provided for them by Mr. and Mrs. Harter. In consequence of the rain which fell during the night and part of the forenoon, the scholars did not play in the field kindly lent by Mr Joseph Walker.'

The log-book tells us that January 3rd 1870 was the 'Day scholars tea party – given by Mrs Harter and Mrs Reiss' (presumably at either Hope Hall or Broom House). In June of that year, we read that school,

'Broke up for Whitsuntide Holidays (1 week). On Thursday of this week the scholars were treated to tea in Mr Tootal's Fields by Mr. Harter of Hope Hall – on Friday. The Sunday School scholars over 12 years of age had tea in the schoolroom and afterwards amused themselves in a field belonging to Mr. Armitage of the Rookery.'

At least one of the school's local benefactors did not limit their contributions to tea and treats. On April 28th 1890, one of Headmaster David Davies's last entries before his sudden death recorded that the school had,
'Received of Mrs Reiss, Broomhouse, 133 volumes to form a school lending library.'

The increased emphasis on educational standards is seen to be having an impact by the start of the 20th century. On July 12th 1900 local newspaper the Manchester Courier and Lancashire General Advertiser listed Manchester Grammar School foundation scholarship awards and these including A. Royle from Broomhouse Lane school.

We read that on July 16th 1908, Marjorie Mary Littlejohn was 'awarded Scholarship in open competition at the Pendleton High School for Girls.' Salford Education Committee had approved a grant of £100 to fund two scholarships to the school for girls from poorer families. When Marjorie Littlejohn took up her place in September 1908, Pendleton High School had just moved from 2, Birchmount into Gorsefield, immediately west of Summer Hill, and the former home of George W. Agnew. From the 1939 Register we can see that Miss Littlejohn was then a schoolmistress at a private school and was living in Worsley. She died in 1979 ages 82 in Aberconwy, Wales.
On July 19th 1913 the Manchester Courier again reported the award of one of five entrance scholarships from public elementary schools to Pendleton High School to Eleanor Mary Turnbull of Broomhouse Lane School. Eleanor was the daughter of Thomas Turnbull, a Foreman Boilermaker from Durham who lived at 23 Trafalgar Road, a recently constructed housing development on the Bentcliffe estate off Devonshire Road. Eleanor married bank clerk Horace B Lathom in 1928 and by 1939 they were living in Gatley. Eleanor was not in paid employment, her occupation listed as 'Unpaid domestic duties'. She died in East Sussex in 1992, aged 91.

In 1919, Summer Hill itself was given by Sir George Agnew to Salford Education Committee. The two houses became the home of Pendleton High School for over 50 years. Broomhouse Lane log-book entry for December 21st 1922 records that the school had, 'Received notice that four girls had passed for entrance for Summer Hill.'
A century of Broomhouse Lane School and the Bentley family The Centenary of the 1845 stone-built school was celebrated in November 1945. Salford City Reporter covered the event on 23 November and included a brief history of the school. It also reported that the event was attended by one of the oldest surviving pupils of Broomhouse Lane School. This was Eli Bentley, aged 93. Eli had lived all his childhood and early life at 5 Park Place, immediately adjacent to the school. His father, James, had been a weaver, but by 1861, aged over 50, was trading as a grocer and running a shop in Park Place.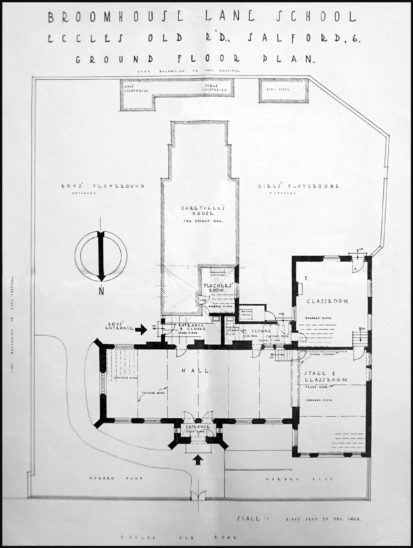 When St James Church, Hope, opened in 1861, just a few hundred yards from Park Place, Eli sang in the choir and his school became the parish school, although it would always be known as Broomhouse Lane. Eli's father died in 1876 and at the next census in 1881 Eli is 28 and living with his widowed mother at Park Place. He now also has a wife and four children and is listed as a gardener but also as an 'Apparitor' (a member of the church who assists during services by organising seating, prayer and hymn book distribution and offertory collections).
Another ten years on finds Eli running his own Fruiterer, Fish and Game business. He is living just across Eccles Old Road on the corner with Wilton Road. The 1891 census tells us that this is the '1st house Wilton Rd', and Eli appears to be doing well. His household consists of his wife, plus 10 children, two sisters-in-law and a general domestic servant. By 1901, two of his daughters and a sister-in-law are assisting Eli in the shop, whilst his son Percy is a Clerk in the Overseer's office. Daughter Mildred age just 17, is an Elementary School Teacher. Her younger sisters , Margaret and Gladys will join her in teaching within the next 10 years. Gladys was a pupil teacher at Broomhouse Lane for two years from 1907-1909.

The Bentley family links to St James's Church remained strong. When son Percy married there in 1906, Eli gave his profession as 'Apparitor of this church'. An article in the Northern Daily Mail 1921, states,
'Mr Eli Bentley sang in the choir at the opening of St James's Church, Hope, Pendleton, and has continued to do so up to the present time. His son, Mr. P.E. Bentley, is also in the choir, together with two grandsons, and another grandson is assistant organist.' Northern Daily Mail, 23 December 1921.
When Eli Bentley died in 1946, aged 94, just six months after Broomhouse Lane School's centenary, he was still at the Wilton Road house where he had lived for over 50 years. He had lived his full and entire life within a few hundred yards of the school and Church he had attended since childhood.
Eli's older brother James Bentley worked as a gardener for William Hinmers of Cleveland House and later for daughter Maria Hinmers at The Limes, 56 Eccles Old Road. He was clearly valued as both William and Maria left legacies to James Bentley in their wills.
We have included a Bentley family tree on our page at www.Ancestry.co.uk
Closure of Broomhouse Lane School
The last pupil to be admitted to Broomhouse Lane School, according to the Admissions Register was Stephen Bunney, who was registered on September 30th 1965 and who left when the family moved house a month before the school closed in 1972. At that time, there were fewer than 130 children on the register.