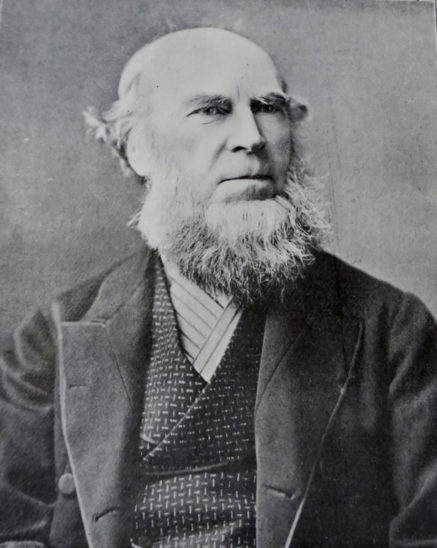 William Hinmers (1821-1902) was a Yorkshire born businessman. He moved to Salford as a young man and made a very good living as a carrier and by investing in railways and coalmines. A county JP, he was a lifelong Dissenter, for many years an active member of Eccles Congregational Church.
Early influences William was born in Guisborough, the largest town in the Cleveland area of North Yorkshire. His father was an independent church minister. He was sent to Silcoates school in Wakefield, but when his father could no longer afford the fees, William earned his board by teaching younger pupils to write. The 1902 edition of Faces and Places tells us that William Hinmers arrived in Salford in 1837. It appears that his interest and involvement in railways began around this time. When the 1841 census was taken he was living at 38 Quay Street, Manchester in the household of engineer Robert Barry, possibly a relative. He was recorded as a 20 year old Accountant.
Developing Business interests By 1845 he was involved in business with Joseph Nall, the first carrier with the Lancashire and Yorkshire railway. The London Daily News of 19 May 1846 published notices signed by William Hinmers, Clerk to the Proprietors of the Manchester, Bolton and Bury Canal Navigation and Railway. The 1851 and 1861 censuses recorded him as a 'General Carrier' and 'Common Carrier'. This was the Victorian equivalent of a haulage contractor who undertook to transport goods for other businesses, in this instance by rail.
Family and Community Life In 1849, living at 8 The Crescent, William had married Bessie Lord of Farnworth. In October they moved into Green Field House, in Church Lane, Farnworth, built for them by Bessie's uncle. They were to live in that house for the next 13 years and had seven children there, all of whom were baptised at the local Market Street Congregational Church.
Local newspapers show he was involved in his community, including patronising a Factory Operative's Bazaar in 1852 and the Farnworth and Kersley Musical Union in 1858.
His successful life was challenged, when in 1861at the age of 40 a serious illness led to an apparent semi-retirement. This was followed by the death of his young son Arthur in 1863. William's partnership with Joseph Nall was dissolved and the family moved to Westcliffe Road in Birkdale, Southport, to a large property they named Cleveland House. Presumably the sea air benefitted William's health as he was made a county Justice of the Peace in 1865 and continued in this role for the rest of his working life. The 1871 census simply listed his occupation as "Magistrate".
Business Acumen His involvement and investments in railways also continued, alongside shareholdings in collieries. In 1872 he became Chairman of the Tyldesley Coal Company. The following year he joined the Board of the Linby Colliery in
Everyday Heritage Grants:
Celebrating Working Class Histories
Call for Proposals
Date of Issue: February 2022
. In 1875 he was elected Director of the Lancashire and Yorkshire Railway. He was clearly an astute businessman, building up considerable wealth.
He was also generous and thoughtful in using his growing wealth. In 1876, after the death of his mother he helped fund and laid the foundation stone of the Hinmers Memorial School in Great Ayton, near Guisborough where his late father had ministered.
Return to Salford It is not known what led to William Hinmers' decision to leave his shoreside house and return to the city. In July 1878 the Liverpool Mercury advertised the sale of a "highly-important valuable first class MARINE MANSION known as "Cleveland House" on 4 acres with "a tower three stories high, commanding excellent views".
On 1 October 1878 the Hinmers took up residence in the newly built Cleveland House on the corner of Eccles Old Road and Lancaster Road in Salford. The new Cleveland House was an imposing 14 room family dwelling. It also boasts a tower, though not as high or with such impressive views as its Southport namesake. William would live here for the last 24 years of his life.
The censuses of 1881 and 1891 continued to record William Hinmers as simply "Magistrate" and "JP". He retired from this role in May 1891 at the age of 70.
He continued his involvement as a Director of the Lancashire and Yorkshire Railway Company, witnessed by a plaque laid at the Horwich Recreation Ground in Bolton. This ground was opened in 1892, mainly for the staff of the railway company's Horwich works and was paid for by William Hinmers and another director, Henry Yates Thompson.
William Hinmers' Legacy William's wife Bessie died at Cleveland House in 1899. His elder daughter, Maria, did not marry and continued to live with her father until his death there on 30 March 1902. In 1891 his younger daughter, Mary Ann, had married Ernest J Carlisle, the son of a neighbour who lived at 56, Eccles Old Road, known as The Limes (currently no. 208). William must have been delighted at this match as Edward's father, Henry Herman Carlisle, was a Congregational minister. Sometime after William's death his daughter Maria took up occupation of no. 56, which she renamed Grove House.
When William Hinmers died in 1902, his death certificate stated that he had suffered from gastro intestinal catarrh for nine months, cardiac debility and asthenia. He left over £175,000 in his will. His coachman Henry Pearson received £50. All his domestic staff who had worked for him for at least 12 months received 12 months wages.
His gardener, James Bentley, received £25 and later went on to work for Maria at no.56. (James Bentley was a member of a long-established working class family who lived in Park Place, next to Hope Hospital. The family's association with Broomehouse Lane School and St James Church can be seen on the school's page of this site )
Joseph and Edward Hinmers were named executors of their father's will along with a friend. His unmarried daughter Maria was provided for with the income from an investment of £10,000. William's eldest son, Robert William, had been declared bankrupt in 1879. William had advanced him £3500 and he bequeathed that loan to be invested to provide an income for Robert, administered by his two younger brothers.
William Hinmers' shares in the two coal companies were divided equally between Joseph and Edward. The rest of his estate was to be sold, with the proceeds divided between Joseph, Edward and Mary Ann.
William's second son Joseph was, at the age of 49 on the 1901 census listed as a retired cotton merchant. By 1911 he was Director of the Tyldesley Coal Company and called his home in Northenden "Cleveland Lodge". William's son Edward, was recorded on the censuses of 1881 and 1891 as a Banker's Clerk. By 1905 Edward could describe himself (on his son's birth certificate) as "Of Independent Means". Their inheritances from their father had helped the sons establish comfortable lives.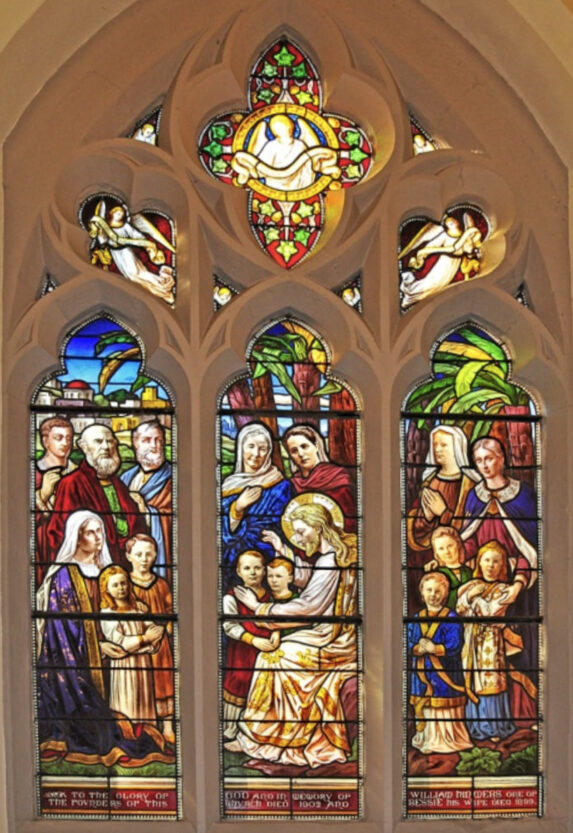 On 6 April 1902, a memorial sermon was given at the Eccles Congregational Church by the Reverend J R Bailey. We learn from this that William Hinmers suffered considerably with ill health in his final years. Tribute was paid to:
"a life so rounded and so full, so complete in every sense of the word, it behoves us not to mourn for its loss as much as to be thankful that it has been lived out amongst us….he was as generous and thoughtful as he was unostentatious…"

"In Memoriam" and images of the memorial window courtesy of the Hinmers family website which has more biographical information.