The Salford Royal Hospital on Eccles Old Road is one of the top performing teaching hospitals in the UK. It will be remembered by many locals and patients as Hope Hospital, a name it was known by since its establishment in the early 1880s. The provision of medical services on this site goes back 140 years and has its origins in the reform of the Poor Law in 1834.

The old poor law system, which had evolved from Elizabethan times, involved parishes raising local taxes to look after the poor. By the early 19th century, there was a widespread belief that 'outdoor relief', with low wages subsidised according to family size, encouraged laziness and larger families. Corruption in the administration of the system was also common. A Commission of Inquiry led to the Poor Law Reform Act of 1834. The main proposal was that:

"…all relief whatever to able-bodied persons or to their families, otherwise than in well-regulated workhouses…shall be declared unlawful, and shall cease…and that all relief afforded in respect of children under the age of 16 shall be considered as afforded to their parents"

Parishes were grouped into Unions, each to provide a workhouse, where the poor would have to go if they wanted help. The aim was to reduce costs, encourage people to work and take beggars off streets. Children would get some schooling and all would be clothed and fed in exchange for work each day.

Salford had had a workhouse at Collier Street, Greengate since 1793, and Pendleton had a small 28 bed one as early as 1777 on Broughton Road. Between 1851-3 the Eccles New Road Workhouse was built, costing £16,500 and designed by Messrs Pennington and Jarvis. By April 1881 this main workhouse had 1,484 residents, including 24 officers.


From workhouse to hospital

Every Poor Law Union had a medical officer and many workhouse inmates were elderly, infirm and in poor health. It was common in the larger urban areas for Unions to provide workhouse infirmaries. As early as 1876 the Salford Guardians of the poor had proposed the building of a pauper and smallpox hospital on 20 acres of land behind Hope Church. The Manchester Evening News published objections from local residents, and reported on an 'indignation meeting' to be held in the Broomhouse Lane School, chaired by Oliver Heywood. One letter, signed by E.A.W. appeared concerned that,
'The placid residents in the aristocratic Eccles Old Road are not accustomed to the holding of indignation meetings and it would not surprise me very much if they get somewhat confused……On the Eccles Old Road are to be found the Heywoods, the Agnews, the Birleys, the Armitages, Mitchell Henry MP, T.B.Potter MP, the Reisses and a whole host of eminent citizens, and these would assuredly leave the district if anything so loathesome and so horrible as a small-pox hospital were to be imported into it.' Manchester Evening News 12 September 1876
At the next meeting of the Guardians, on 15th September, a deputation from the Broomhouse meeting addressed the Board:
'Mr O. Heywood, one of the deputation, spoke at length on the injury the hospital would inflict on the neighbourhood and contended that it was hardly fair to the gentlemen who resided in the neighbourhood to establish such an institution on the site contemplated.' Manchester Evening News 15 September 1876
The proposal did not go ahead, but in 1879 the Local Government Inspector ruled that Salford workhouse on Eccles New Road was 15% overcrowded. It was decided to move all the sick poor, excluding infectious cases, out of the workhouse into an infirmary. In 1880 Salford Union commissioned an infirmary on the south side of Eccles Old Road. It was to accommodate 880 patients at a cost of £64,000 and was designed by Lawrence Booth, a Manchester Architect and built by W. Southern of Salford. The foundation stone was laid on 25th March 1880.

By the time the Census was taken in 1881, the facility was not fully operational, with under 250 inmates, and may have been operating largely as a workhouse, rather than an infirmary. Over 80 inmates were recorded as born in Ireland, around 40 in Salford and around 35 in Manchester, 30 from elsewhere in Lancashire. Most of the others were other parts of England, with only two born in Scotland, three in Wales, one in each of America and Holland.
The official opening of the new workhouse infirmary in October 1882 was attended by around 100 local dignitaries and interested persons, including Benjamin Armitage MP, William Agnew MP and Oliver Heywood, all Eccles Old Road residents. The Chairman of the Salford Board of Guardians, Mr Dickins, declared the new infirmary would,
'rank as one of the finest of its kind in the kingdom….I believe that when these buildings and grounds are completed they will be an ornament to the locality, especially by reason of the large open spaces we shall always maintain.' Manchester Courier 20 Oct 1882
Mr Dickins referred to the fact that some neighbours had objected to the building of the hospital on that site out of fear that at some future time an infectious hospital might be built there. He assured these objectors that,
' an honourable understanding to the contrary, and the fact that such proximity to this infirmary would in every respect be objectionable and improper, may be relied upon as ample security against any such infliction.' Manchester Courier 20 Oct 1882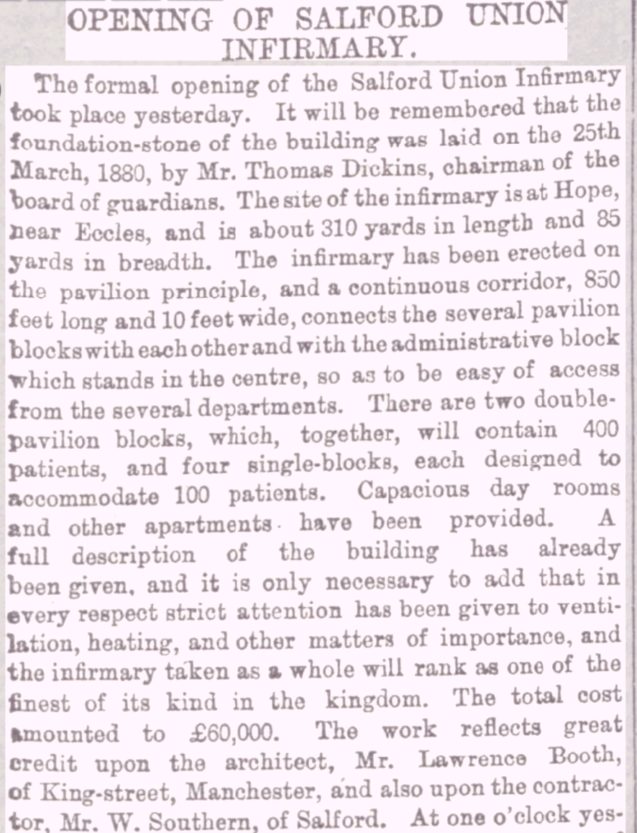 On census night 1881 there were only four staff present: Helena McCormick from Manchester, Assistant Matron, Elizabeth Ann Cooper, Night nurse from Hulme , Sarah Ann Hallsworth, Cook from Manchester, and Thomas Peelis, Porter, born at sea. Peelis himself may have been an inmate as his occupation is given as Railway Clerk. The remaining residents are listed an 'Inmates' rather than patients. Ten of the inmates were recorded as having a sensory disability and two were described as 'imbeciles'.
In his address at the opening of the infirmary Mr Dickins had assured those present that,
'The entire administration will be under the superintendance of our Chief Medical Officer, Mr Conry….and thus you see all will be pretty well looked after. Mr Conry has for two years been the resident medical officer of our workhouse…I have not the slightest doubt his administration will justify the high character he has deservedly gained.' Manchester Courier 20 Oct 1882
Sadly, this confidence proved misplaced. In June 1889 Dr. John Templer Crosbie Conry was the subject of an Inquiry by the Board of Guardians into allegations of impropriety by three nurses at the infirmary. Despite detailed evidence from two of the nurses, it appears the cases were not upheld, as Conry was still in post over a year later when further allegations were made against him. Mr Walker, the assistant medical officer, alleged that Conry was again involved inappropriately with nursing staff. Newspapers around the country reported 'THE SALFORD UNION INFIRMARY SCANDAL', with Conry launching counter-claims against Walker of similar impropriety and of neglect of a patient who had died of pneumonia.
The Board decided to demand the resignations of both doctors. Conry refused and Walker failed to respond. Board Member Mr Worsley, thought,
'affairs at Hope Hospital were very unsatisfactory…They must have a clearance at the hospital before they could do anything.' Manchester Courier 4 October 1890
Both doctors were dismissed. Conry moved to London where he continued to practice medicine and is recorded in 1895 giving evidence at a murder trial where he had attended the victim (www.oldbaileyonline.org). He died in 1907. It is not known what became of Dr Walker.
When the 1891 Census was taken, the Salford Union Infirmary is described as 'Workhouse Infirmary' . Over 550 residents are listed as inmates. The first 120 or so are listed in alphabetical order and their occupations and infirmities are given. Most of these are described as having Epilepsy or Dementia, with under 20 listed as 'Imbecile', 'Idiot' or 'Lunatic'. A similar number had sensory impairments, often in addition to other conditions. The other 400+ inmates had no medical conditions recorded.
Medical staff in attendance on census night in 1891 included two Assistant Medical Officers – Ernest Albert Shaw, surgeon from Yorkshire and William Alfred Garry , Physician surgeon from Ireland. The Night Superintendant was nurse Janet Bacon Mayhew from Suffolk. There are then listed five nurses and around 20 probationer nurses, indicating a training function at the infirmary. These nurses appear to have slept in cubicles on the top floor of the hospital. Staff also included two Head Lunatic attendants and five Lunatic attendants. It is unlikely that these were medically trained.

Of the medical staff, six were from Salford and Manchester, six from elsewhere in Lancs, 22 from elsewhere in England, four from Ireland, and one from each of Scotland and Wales.
It is interesting to see the level of detail that the Board Of Guardians involved themselves with in the running of the Infirmary. Perhaps the memory of the earlier scandal made them feel they needed to keep a tight rein on matters. In 1899 the local paper reported a discussion at the Board meeting as to whether patients as well as staff were to be allowed new potatoes instead of old ones. The medical officer was to be consulted. We may never know if the patients got their new potatoes!
20th Century Improvements The inadequacy (and perhaps the vulnerability) of the accommodation for nurses must have become increasingly apparent. In 1900 the Board of Guardians appointed the eminent Salford architect Henry Lord to design a nurses' home on land adjoining the Infirmary and facing onto Eccles Old Road. Henry Lord must have enjoyed watching his fine new creation taking shape as he passed it on his way to work from the home he had designed for himself on Devonshire Road, just a few hundred yards from the hospital.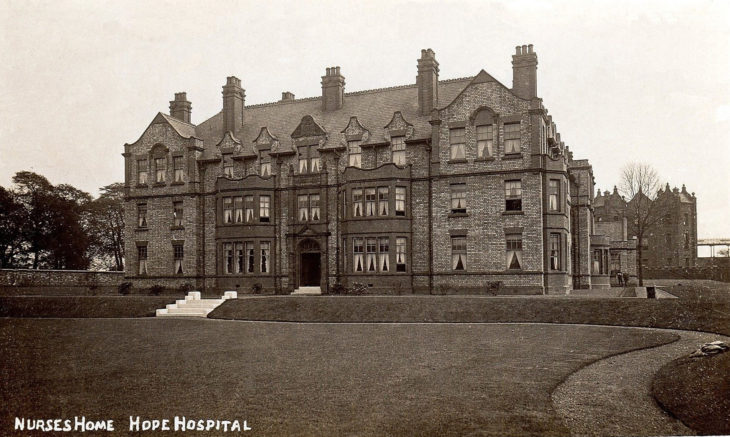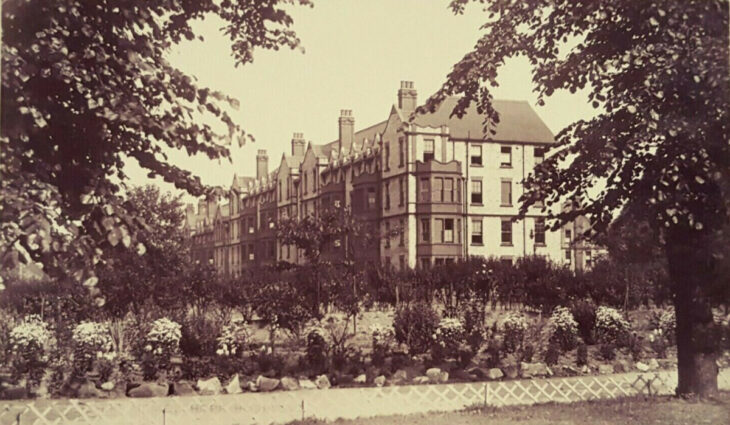 The initial estimate of £3000 to £6000 appears to have been a long way out, with the final cost nearer to £12000, met by loans repayable over 30 years. The builders were James Daniels and Sons of Pendleton.
The local press described the completed building in glowing terms:
'It is an elegant structure, and surrounded as it is by its own grounds, its site is a pleasant one. The building is of a commodious character and will accommodate about 70 nurses, whose apartments have been excellently and comfortably furnished. There is also a matron's sitting room, and a separate one for the sisters and one for the nurses. There are also a visitors' receiving room and a dining room.' Salford Reporter 23 Jan 1904, cited in www.manchestervictorianarchitects.org.uk
By 1901 Salford Union Infirmary had an administration and staffing structure firmly in place. Hospital Steward, Thomas Henry Johnson, with his wife (a nurse), two children and two servants, were living on site, as was the gardener, Frederick Blower and his family. Other non-medical staff included a cook, a laundress, a sewing mistress and seven general domestic servants, all women.

Medical staff on Census night were Indian born Charman Chander Lall BM, age 30, and Eva McCall BM, age 31, from Lismore, Ireland. Nursing staff consisted of a Night Super-intendant of Nurses, four Charge Nurses and, Probation Sick Nurses There were also six Mental Attendants and seven Lunatic Attendants.

Two years before the 1901 census, a report in the Manchester Evening News indicated tensions amongst medics around the admissions policy of the Salford Infirmary. Two doctors from St. Mary's in Manchester had referred a female patient from Salford to the Infirmary as they considered her in a serious condition but not suitable for a general hospital. The Union's Relieving Officer had refused her admission as she was not destitute and the Infirmary was for paupers only. As if to emphasise the point, the Infirmary's census return in 1901 listed around 700 'paupers'.
The physical conditions in the hospital in the early 1900s were neither pleasant nor safe. A booklet produced for the hospital's centenary in 1980 tells us that:
The walls…were of poor quality, colour-washed brick. The rather terrifying operating room had rough brick walls painted over, poor lighting, bad ventilation, not a very good stock of apparatus and a wooden operating table. Hope Hospital Centenary 1880-1980, Salford Area Health Authority
Further additions and alterations were made to the infirmary buildings in 1907 and 1910, Henry Lord being the architect for all these changes. By the time of the 1911 census, the hospital had 165 rooms with a further 16 rooms in isolation sheds. The nurses' home had 80 rooms. Present on census night were 771 'patients' and 48 'inmates' (probably these latter were the chronically ill long-term residents rather the destitute sick). 96 staff included two House Surgeons – Clifford Hall from Staffordshire and William Wilkinson Uttley from Bolton. A Matron and Assistant Matron were responsible for 66 nurses and five 'imbecile attendants'.
In 1911, Thomas Henry Johnson was still the Hospital Steward and his 18 year old son was then a medical student. The lodge was occupied by a porter and portress and a hospital plumber lived in a cottage with his family. Around a dozen ancillary staff provided cooking, laundry and other domestic services.
During the first world war 640 beds in the Infirmary were set aside for wounded service personnel; increased numbers of nursing staff were having to be accommodated in other buildings, including in Broomhurst, a large detached house on the Eccles Old Road side of the site.
In 1920, the Board of Guardians decided on a major extension to the nurses' home and architects Messrs. W Telford Gunson & Sons of Manchester were appointed. In 1924 the Board also built The Homestead, a 500 bed Old People's Home on the south side of the hospital, to help accommodate the elderly poor being rehoused from the old Salford workhouse.
When the new nurses' home extension was opened in 1927 the Board of Guardians produced a booklet describing and illustrating the works carried out, with costs. Bedspaces had been increased from 72 to 258, nursing staff more than doubled and much improved facilities had been added. The total costs were over £45,000.
The booklet, a copy of which can be seen in Salford Local History Library, includes photographs of Dr. John Dudgeon Giles, Medical Superintendent and Mary Jane Colvin Ross, Matron. Dr Giles, originally from Scotland, and Matron Ross, from Ballymena in Ireland, had both been appointed during the first world war. Described as 'two young, keen and far-seeing officials', they had been involved in the care of wounded servicemen and had been awarded honours for their war work. Dr Giles received an OBE and Mary Ross was made a Member of the Royal Red Cross.
A further extension to the Infirmary had been commissioned in 1928 to increase its capacity to almost 1000. By the time the new extension was completed in 1931, the Board of Guardians had been abolished and Hope Hospital was taken over by Salford Corporation.
Dr. Giles and Matron Ross continued to work at Hope Hospital and had each completed around 25 to 30 years in their roles when they were tragically killed during the Christmas Blitz on December 23 1940. Dr. Giles's wife Annie also died, along with Florence Hankins, wife of the hospital Steward, Harold Perrett, the Assistant Steward and Adolphus William Nicholls, a hospital plumber. These last four were all buried in Agecroft cemetery. Mary Ross was buried in Anfield Cemetery in Liverpool, next to her brother, in accordance with her wishes.
An early memorial to Matron Mary Ross in the form of a stained glass window was installed in the hospital. This was paid for by Mary Ross herself, whose will included this specific bequest:
'I desire if agreeable to the authorities of Hope Hospital that a memorial in the form of a stain-glass window be placed in the Protestant Chapel to my memory of the many years I spent at Hope Hospital as a Matron and that the sum not exceeding two hundred pounds be spent on the memorial & to be paid out of the estate…'
The window is now located in the chaplaincy on the third floor of the Hope building. A more recent memorial to all six casualties stands in the WRVS cafe garden in the Ladywell Building at the hospital. Mary Ross had also left a bequest of £50 to Florence Hankins, the wife of the hospital steward, but sadly, she also perished alongside Mary on the night of 23rd December 1940.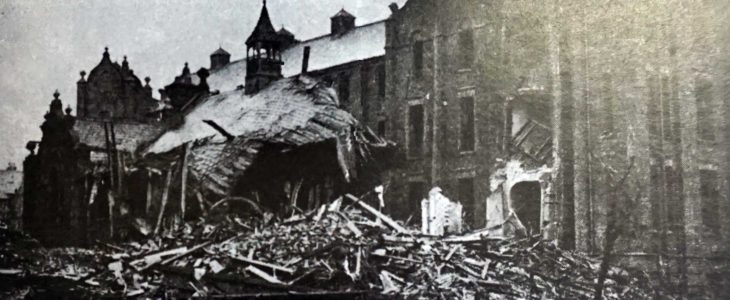 With the creation of the NHS, management was transferred to the Salford Hospital Management Committee and extensive redevelopment occurred. In 1974 Hope became a University Hospital and it was decided to develop the site for one large hospital. After further rebuilding in the 1980s, the Salford Royal and Hope Hospitals merged in 1994 and Hope became the main site for the Salford Royal Hospital NHS Trust.