John Dudgeon Giles MD ChB OBE
John Dudgeon Giles (1880-1940) was medical superintendent of Hope Hospital in both World War I and World War II. For his work caring for the injured during the first war, he was awarded the OBE. He died in the Christmas blitz of December 1940, when the administrative block at Hope Hospital was hit during an air raid.
John was born in Edinburgh to the Reverend Alexander Giles, a minister of the Free Church of Scotland, and his wife Cecilia Dudgeon. He had one younger brother, Alexander Falconer. His mother died in 1891 when John was 11 years of age and his father remarried three years later. The brothers clearly received a good education. At the time of the 1901 census they were both at university; ten years later, John was a qualified doctor whilst Alexander was a university lecturer teaching Classics.
After training at Edinburgh University, King's College and the Middlesex Hospital, John spent the first 10 years of his medical career in Poor Law Union hospitals in Bermondsey, Middlesborough and South Shields. He married Annie Wright in 1909; by 1911 they were living in the Middlesborough workhouse infirmary where the 31 year old Medical Officer was responsible for over 20 nurses and 400 patients.
In 1915 the Newcastle Journal reported:
Dr John D. Giles, medical officer at the South Shields Poor Law Institution, has been appointed out of 38 applicants medical superintendent at the Salford Union Infirmary. The salary is £500 per annum, rising to a maximum of £700. Newcastle Journal 22 March 1915
Alongside the hospital matron Mary Ross, John Giles worked throughout the first world war providing care to wounded service personnel. He was recognised by the award of the OBE. Salford Local History Library has a booklet produced in 1927 by the Salford Board of Guardians, describing Giles and Ross as "two young, keen and far-seeing officials".
By the outbreak of the second world war in 1939, John and Annie Giles were living at 49 Victoria Road, directly opposite the hospital across Eccles Old Road. The 1939 Register shows that their only son, 25 year old John Alexander Dudgeon Giles, was a medical student at Hope Hospital. On the night of 23 December 1940 both Dr Giles and his wife were in the hospital administration block when it was hit by a parachute bomb.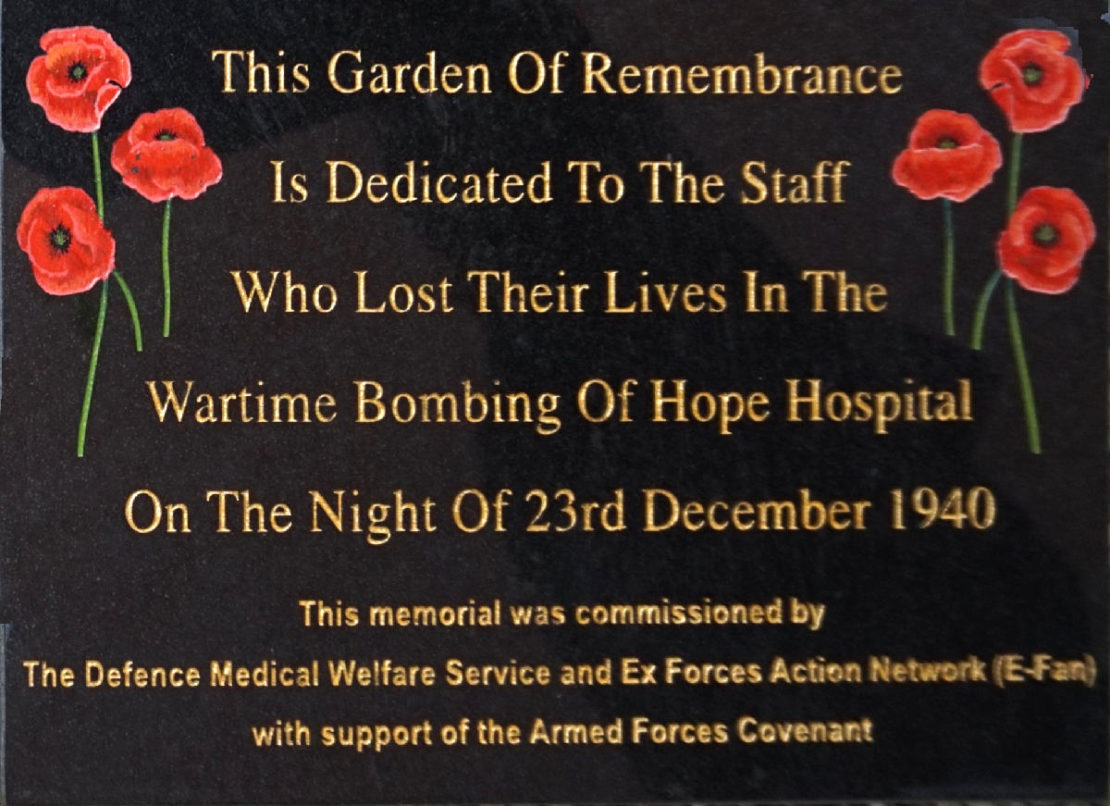 John and Annie Giles died alongside matron Mary Ross, two other members of staff and the wife of the hospital steward. It is not known where their son was on that night, but he survived to qualify as a doctor. It is believed he married and had two sons after the war. His parents were buried at Agecroft Cemetery.