Mary Jane Colvin Ross RRC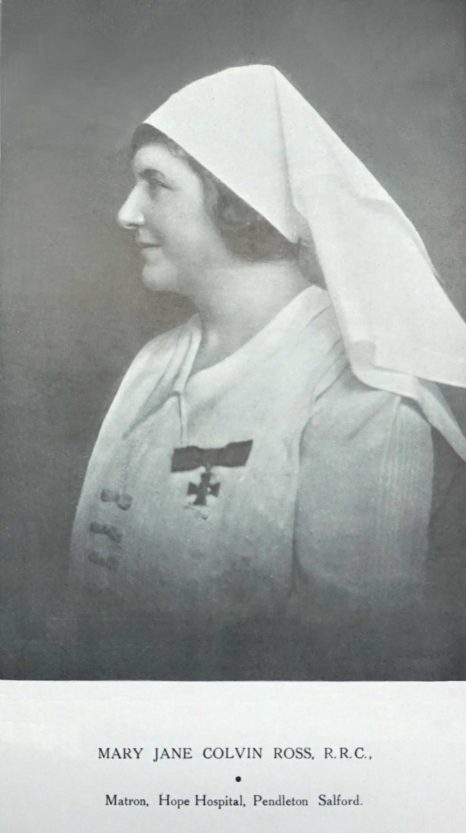 Mary Jane Colvin Ross (1879-1940) was matron of Hope Hospital in both World War I and World War II. For her work caring for the injured during the first war, she was awarded the Royal Red Cross (First Class). She died in the Christmas blitz of December 1940, when the administrative block at Hope Hospital was hit during an air raid.
Born in Clogher, Ballymena in County Antrim on 15 April 1879 to James and Fanny Ross, Mary had at least two older brothers, Robert and James. By 1901, Mary had left home, presumably to train or practise as a nurse.
In 1911, she was working as Assistant Hospital Matron at the South Manchester Infirmary Workhouse at Nell lane, Withington. The infirmary housed nearly 800 inmates and another 131 in the 'lunatic wards'. Staff resident on census night numbered 169, all but a dozen were females. By the time she was appointed Matron at Hope Hospital she would have been a very experienced nurse and manager. A Salford Board of Guardians booklet of 1927 described her as "young, keen and far-sighted".
For her work in caring for wounded servicemen during World Ward 1 she was made a Member of the Royal Red Cross (first class). The photograph of Mary shows her wearing her medal. She continued to work at Hope Hospital for a total of almost 30 years.
On the night of 23 December 1940, she was in the hospital administration block when it was hit by a parachute bomb dropped during an air raid. Her body was not found until 9 January 1941. In accordance with her wishes set out in her will, Mary Ross is buried in Anfield Cemetery, Liverpool, next to the grave of her brother Dr. James Ross, who had been a surgeon. Her other brother, Robert was later interred with her.
Her will was written in October 1939 shortly after the start of the war. The Grant of Probate indicated that she was also known as Minnie Ross, presumably by friends and / or family. The will tells us that her unmarried brother Robert was still alive and living in Whitefield, and that her late brother James had become a doctor, as had his two sons. Her instructions for her burial indicate her regard for her brother:
"I desire if convenient to be buried beside my brother Dr James Ross of Liverpool in Anfield Cemetery and I direct that the cost of a memorial not exceeding £100 be erected over the grave & to be paid out of the estate…"

Her second expressed wish was for a memorial at Hope Hospital, which she would pay for:
"I desire if agreeable to the authorities of Hope Hospital that a memorial in the form of a stain-glass window be placed in the Protestant Chapel to my memory of the many years I spent at Hope Hospital as a Matron and that the sum not exceeding two hundred pounds be spent on the memorial & to be paid out of the estate this memorial to be in consultate with my nephews and the authorities & be agreeable to both."

A stained glass window in memory of Mary was installed in Hope Hospital (above left and top right). This is now located in the chaplaincy on the 3rd floor of the Hope building. Five other members of staff died that night, including Dr John Dudgeon Giles, Medical Superintendent, Florence Hankins, wife of the hospital steward, Harold Perrett, assistant steward and Adolphus William Nichols, a hospital plumber. A memorial to the six who died is located in the WRVS garden in the Ladywell building (below right).
£875 was left in individual bequests to a number of Mary's colleagues and friends. Mary Ann Broadbridge, Hope Hospital's Assistant Matron and Martha Worth, another female member of staff, each received £200. Mrs Hankins, wife of the hospital steward was to receive £50, but sadly she also perished alongside her five colleagues.
Mary's surviving brother Robert, her niece (a hospital social worker), two nephews (both doctors) and her sister in law were the main beneficiaries of her will. They shared the remainder of her £10,000 estate, along with some specific items of interest.
"To my niece Sybil Ross my medals and Certificates presented to me by The Royal Family also the Honourable Women of the War and The Way of the Red Cross (Books) and picture presented to me by Queen Alexandra in 1918 also my pearl necklace and silver salver presented to me by the Staff of Hope Hospital also my jewellery and ornaments and household effects and that she personally select such articles of furniture as will be useful for the comfort of my brother Robert Ross of Whitefield and give them to him." .."
Nephew Dr James Cosbie Ross was to receive his great grandfather's clock and nephew Dr John Alexander Ross was to inherit Mary's Crystal Lamp and Royal Doulton. It is to be hoped that these items survived the bomb blast which killed Mary and that they are still in her family's possession.